Unemployment, Self-Employment and Bridging Allowance
Part of the ZEW Economic Studies book series (ZEW, volume 25)
Abstract
In Germany, the last two decades have been characterised by a high and increasing number of unemployed people (see
Figure 1
).
4
The number of unemployed rose sharply three times. The first increase was in the mid-1970s after the first oil price shock. At the beginning of the 1980s due to several reasons, among them the second oil price shock, the number of unemployed people again increased from around 900,000 to about 2.3 million. During the 1980s the unemployment rate remained fairly stable, it even decreased slowly. After the reunification in 1990 the unemployment rate for West Germany decreased significantly but came back to its previous level during the recession of 1992/93. The total number of unemployed increased sharply after the reunification. Hence, the eastern parts accounted for approximately 1.1 to 1.3 million of the unemployed. The number of unemployed reached its peak in 1997 with nearly 4.5 million people, whereas over 3 million lived in the old federal states.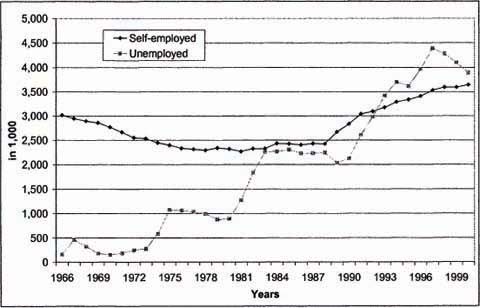 Keywords
Unemployment Rate 
Unemployment Benefit 
Unemployed People 
Unemployed Person 
Active Labour Market Policy 
These keywords were added by machine and not by the authors. This process is experimental and the keywords may be updated as the learning algorithm improves.
Copyright information
© Springer-Verlag Berlin Heidelberg 2004