Microbial and Microalgal Carotenoids as Colourants and Supplements
Part of the Carotenoids book series (CAROT, volume 5)
Abstract
General aspects of the production and use of carotenoids as colourants and supplements were discussed in
Chapter 4
. For several decades, these carotenoids have been produced commercially by chemical synthesis or as plant extracts or oleoresins,
e.g.
of tomato and red pepper. Some unicellular green algae, under appropriate conditions, become red due to the accumulation of high concentrations of 'secondary' carotenoids. Two examples,
Dunaliella
spp. and
Haematococcus pluvialis
, are cultured extensively as sources of β-carotene (
3
) and (3
S
,3′
S
)-astaxanthin (
406
), respectively. Non-photosynthetic microorganisms,
i.e.
bacteria, yeasts and moulds, may also be strongly pigmented by carotenoids, so commercial production by these organisms is an attractive prospect. Penetration into the food industry by fermentation-derived ingredients is increasing year after year, examples being thickening or gelling agents (xanthan, curdlan, gellan), flavour enhancers (yeast hydrolysate, monosodium glutamate), flavour compounds (γ-decalactone, diacetyl, methyl ketones), and acidulants (lactic acid, citric acid). Fermentation processes for pigment production on a commercial scale were developed later but some are now in use in the food industry, such as production of β-carotene from the fungus
Blakeslea
trispora, in Europe, and the non-carotenoid heterocyclic pigments from
Monascus
, in Asia [
1
,
2
,
3
]. Efforts have been made to reduce the production costs so that pigments produced by fermentation can be competitive with synthetic pigments or with those extracted from natural sources. There is scope for innovations to improve the economics of carotenoid production by isolating new microorganisms, creating better ones, or improving the processes.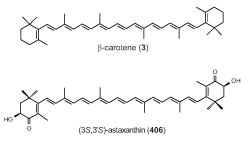 Keywords
Carotenoid Biosynthesis 
Carotenoid Production 
Monosodium Glutamate 
Astaxanthin Production 
Rhodotorula Glutinis 
These keywords were added by machine and not by the authors. This process is experimental and the keywords may be updated as the learning algorithm improves.
Copyright information
© Birkhäuser Verlag Basel 2009