Biological Activities of Carotenoid Metabolites
Part of the Carotenoids book series (CAROT, volume 5)
Abstract
Considerable research effort has been expended in an attempt to substantiate and understand the potential roles of carotenoids in human health and disease, as described in previous
Chapters
in this
Volume
. Early studies dealt with β-carotene (3) and other provitamin A carotenoids, but more recent research efforts have focused on the potential roles in health and disease of the non-provitamin A carotenoids, such as lycopene (31) and lutein (133). Carotenoids are lipophilic and the series of conjugated double bonds in the central chain of the molecule makes them susceptible to oxidative cleavage [
1
], to isomerization between the
trans (E)
and
cis (Z)
forms [
2
], and to the formation of potentially bioactive metabolites [
3
]. The best known metabolite of carotenoids is vitamin A, as retinal (
1
), retinol (
2
) and retinoic acid (
3
). In recent years, considerable efforts have been made to identify biological properties of carotenoid metabolites other than vitamin A and related retinoids. Better understanding of the molecular details behind the actions of these carotenoid oxidative metabolites may yield insights into both physiological and pathophysiological processes in human health and disease. For provitamin A carotenoids, such as β-carotene, α-carotene (
7
), and β-cryptoxanthin (
55
), central cleavage is a major pathway leading to vitamin A and its derivatives [
4
,
5
] (see
Chapter 8
and
Volume 4, Chapter 16
). This pathway has been substantiated by the cloning of a central cleavage enzyme, β-carotene 15,15′-oxygenase (BCO1), which can cleave carotenoids at their C(15,15′) double bond. It has been well demonstrated that retinoids, the most important oxidative products of provitamin A carotenoids, play an essential role in many critical biological processes, including vision, reproduction, metabolism, differentiation, haematopoiesis, bone development, and pattern formation during embryogenesis [
6
].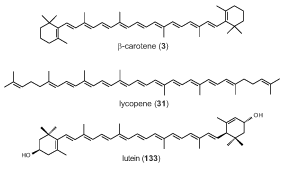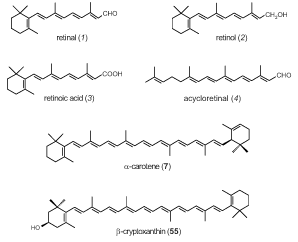 Keywords
Retinoic Acid 
Retinoic Acid Receptor 
Human Bronchial Epithelial Cell Line 
Retinoic Acid Response Element 
Retinoic Acid Level 
These keywords were added by machine and not by the authors. This process is experimental and the keywords may be updated as the learning algorithm improves.
Copyright information
© Birkhäuser Verlag Basel 2009