Abstract
Anthocyanin is the general name applied to the glycosides of antho-cyanidin chromophores which are the origin of the red, violet, and blue colors found throughout the plant kingdom, such as the colors of petals, leaves and fruits. Only a few anthocyanidin nuclei have been found in spite of the great variety of plant colors. The major anthocyan- idins found in nature are pelargonidin, cyanidin, peonidin, delphinidin,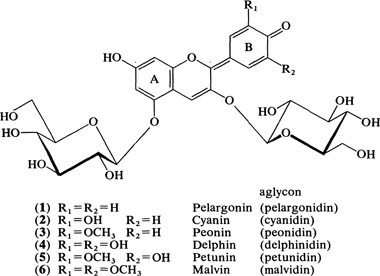 petunidin and malvidin (
Fig. 1
). The most common anthocyanins are 3-glucosides and 3,5-diglueosides of the anthocyanidins, but galactose, rhamnose, xylose and arabinose residues are also found. Many anthocyanins containing acylated sugar moieties are also known. The acyl groups are mostly derivatives of cinnamic acid such as
p
-coumaric, caffeic, and ferulic acid, but include some aliphatic acids such as malonic, succinic, and acetic acid as well.
Keywords
Caffeic Acid 
Color Variation 
Malonic Acid 
Cotton Effect 
York Acad 
These keywords were added by machine and not by the authors. This process is experimental and the keywords may be updated as the learning algorithm improves.
Copyright information
© Springer-Verlag/Wien 1987