Diseases of Intermediary Metabolism
Abstract
Several metabolic diseases of adulthood, particularly hepatic coma, hepatolenticular degeneration and uremia, produce a peculiar type of glial proliferation known as "metabolic astrocytosis", or glia cells of Alzheimer type II. Metabolic astrocytosis as a consequence of acquired hepatic diseases has been defined mostly through the studies of Adams and Foley (1953) and Victor et al. (1965). It consists of an increase in the number and size of astrocytic nuclei which may appear in pairs or in clusters if proliferation is intense. The nuclei enlarge significantly and may reach nearly twice their normal size; they are distinctly vesicular with a prominent nuclear membrane encompassing a watery, empty-appearing nucleoplasm which may contain sparse chromatin particles resembling nucleoli (Fig. 154). Staining reactions for glycogen show usually single intranuclear inclusions in many of the nuclei, varying in size from small grains to larger than a nucleolus. The cytoplasmic bodies of the astrocytes are not discernible on light microscopic examination except for an occasional tuft of lightly stained cytoplasm; hence, the term "naked glial nuclei". No fibrillary gliosis is seen in Holzer stains.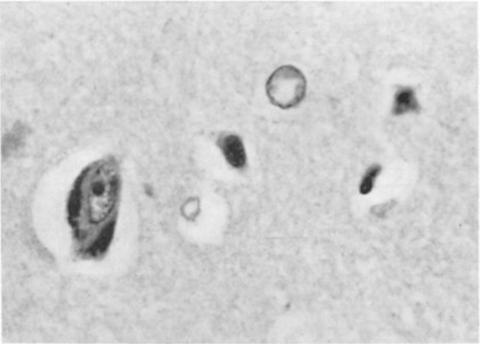 Keywords
White Matter 
Amino Acid Metabolism 
Urea Cycle 
Intermediary Metabolism 
Maple Syrup Urine Disease 
These keywords were added by machine and not by the authors. This process is experimental and the keywords may be updated as the learning algorithm improves.
Copyright information
© Springer-Verlag Wien 1975