Cord Incision Model for Visualization of Adverse Effects of Skull Traction and Ventroflexion of Cervical Spine
Abstract
A preliminary observation, illustrated in Fig. 9, is that skull traction straightens the cervical spine out of its normal lordosis, thus causing the surfaces of an incision (or wound) to move apart. The graphs in Fig. 10 show that this diastasis increases as the degree of skull traction or of ventroflexion of the neck is increased. Figure 11 presents measurements which make clear that lengthening of the spinal canal brought about by flexion of the cervical spine is additive to that produced by flexion of the (upper) thoracic spine [67, 68] and therefore increases the gaping of a transverse intramedullary wound. This additive effect of simultaneous skull traction and ventroflexion of the cervical spine is demonstrated in Fig. 12. From the biomechanical measurements available today it can be inferred that stretching of the straight cervical spinal cord by traction on the cervical spine reaches a maximum when carried out with a load of about 7 kg, provided that no osseous, cartilaginous or ligamentous damage is present. As illustrated in Fig. 13, the width of the intramedullary wound cleft in the cervical cord increases with increasing length of the cervical canal (irrespective of its absolute length). As discussed above, this effect can be relatively greater in a patient with a short neck than in one with a long cervical spine.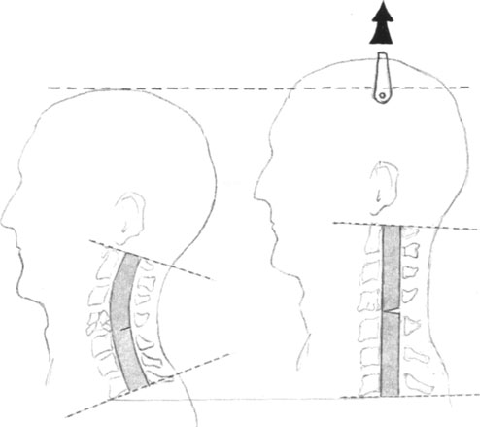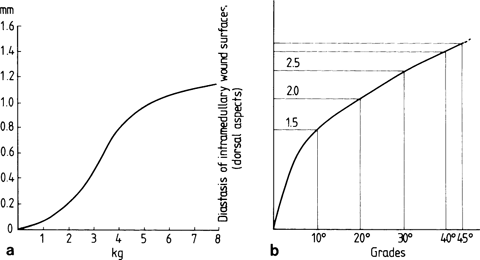 Keywords
Cervical Spine 
Cervical Spinal Cord 
Cervical Cord 
Transverse Incision 
Cervical Canal 
These keywords were added by machine and not by the authors. This process is experimental and the keywords may be updated as the learning algorithm improves.
Copyright information
© Springer-Verlag Berlin Heidelberg 1989