Abstract
The result of the demand planning process is the establishment of independent requirements which will trigger the planning activities as distribution, production and procurement planning. Usually a sales forecast is the key input to the demand plan. This sales forecast is consolidated and checked regarding plausibility, probably checked against a statistical forecast and corrected according to the experience of the planner before releasing it for the subsequent planning steps. Figure 4.1 shows this process for a very simple supply chain with global demand planning and single sourcing local production planning: The monitoring of the forecast accuracy and a feasibility check against the planning constraints (e.g. capacity) are further common process steps. Depending on the business requirements there might be many others.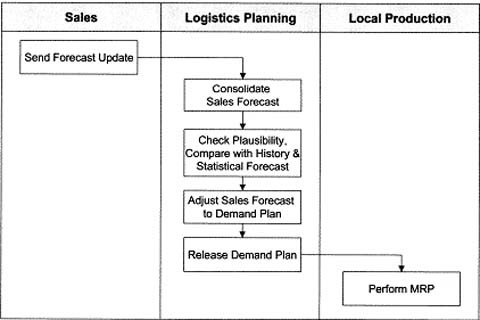 Keywords
Planning Area 
Characteristic Combination 
Statistical Forecast 
Data View 
Interactive Planning 
These keywords were added by machine and not by the authors. This process is experimental and the keywords may be updated as the learning algorithm improves.
Copyright information
© Springer-Verlag Berlin Heidelberg 2004