Abstract
Estrogen is mainly secreted from the ovary and plays an important role in the development and maintenance of the reproductive system in the female. It mainly exerts its effect by binding to the specific receptors present in each target cell. The mode of action of the estrogen receptor (ER) is illustrated in Fig. 1. The ER waits for the incoming estrogen (the most potent physiological one being 17β-estradiol, E2) in the cell nucleus, and when this ligand comes into the cell through the cytoplasm, the ER binds E2 with a very high affinity, and then binds to a certain DNA sequence, named the estrogen responsive element (ERE) and activates the specific genes that have this element (Jensen and DeSombre 1973, Evans 1988, Green and Chambon 1988). In this sense, ER may be said to be a ligand- (E2-) dependent transcription factor.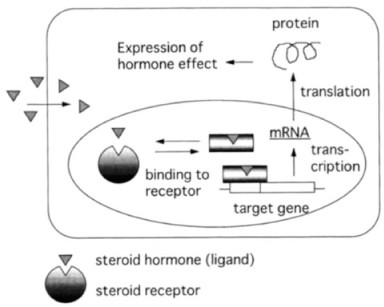 Keywords
Estrogen Receptor 
Nuclear Receptor 
Estrogen Action 
Complete Amino Acid Sequence 
Human Estrogen Receptor 
These keywords were added by machine and not by the authors. This process is experimental and the keywords may be updated as the learning algorithm improves.
Copyright information
© Springer-Verlag Berlin Heidelberg 2000