Abstract
Heterologous expression systems must ideally feature high, stable, reproducible and low-cost synthesis of any P450 under a native folding state, including full saturation by the hemin prosthetic group. Additionally, the host cell must be free of any interfering endogenous P450 activity and must offer a suitable P450 environment mimicking as closely as possible the natural microsomal membrane of the organism from which the P450 originates. Production of large amounts of metabolites further requires the reconstitution of an in vivo self-sufficient system. The natural presence or the coexpression of P450-associated electron transfer proteins, particularly NADPH-dependent reductase and cytochrome b 5, is thus useful. In contrast, the presence of endogenous phase II activities in the host system could be deleterious because it sometimes results in conjugation reactions that mask the formation of reactive intermediates. Nevertheless, some P450-dependent activation reactions involve an obligatory association with a phase II enzyme, such as microsomal epoxide hydrolase, to generate the intermediates then used as substrates by the same or other P450 to produce the final activated metabolites. Optional coexpression of phase II activity is thus an interesting feature for a more accurate simulation of drug and pollutant metabolism. Among the numerous organisms in which expression tools are available, yeast is rather unique in meeting all the different criteria previously listed.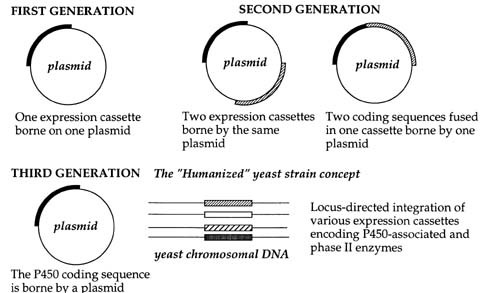 Keywords
Epoxide Hydrolase 
P450 Reductase 
Microsomal Epoxide Hydrolase 
Yeast Microsome 
P450 Reductase Activity 
These keywords were added by machine and not by the authors. This process is experimental and the keywords may be updated as the learning algorithm improves.
Copyright information
© Springer-Verlag Berlin Heidelberg 1994