Formation of the Peptide Bond
Abstract
In order to convert carboxylic acids into acylating agents their hydroxyl group must be replaced by an electron-withdrawing substituent (X) to enhance the polarization of the carbonyl group and thereby the electrophilicity of its carbon atom. Thus the nucleophilic attack by the amino group (of the amino acid to be acylated) is greatly facilitated: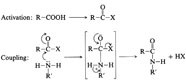 Keywords
Peptide Synthesis 
Active Ester 
Coupling Reagent 
Mixed Anhydride 
Peptide Bond Formation 
These keywords were added by machine and not by the authors. This process is experimental and the keywords may be updated as the learning algorithm improves.
References
Additional Sources
Bodanszky, M.: Active Esters in Peptide Synthesis, in The Peptides, vol. 1, Gross, E., Meienhofer, J. eds., pp. 105–196, New York, Academic Press 1979

Google Scholar

Meienhofer, J.: The Azide Method in Peptide Synthesis, in The Peptides, vol. 1, Gross, E., Meienhofer, J. eds., pp. 197–239, New York, Academic Press 1979

Google Scholar

Meienhofer, J.: The Mixed Anhydride Method of Peptide Synthesis, in The Peptides vol. 1, Gross, E., Meienhofer, J. eds., pp. 263–314, New York, Academic Press 1979

Google Scholar
Copyright information
© Springer-Verlag Berlin Heidelberg 1988