Abstract
The finely powdered dicyclohexylammonium salt of the protected amino acid, (5.1 g, 10 mmol) is added to a two phase system of ethyl acetate (40 ml) and a solution of KHSO4 (2 g, 15 mmol) in water (40 ml) [2]. The mixture is shaken by hand until the dicyclohexylammonium salt is completely dissolved. The aqueous phase is extracted with ethyl acetate (twice, with 10 ml each time). The combined organic layers are washed with water until they are free of sulfate ions, then dried over anhydrous sodium sulfate and evaporated to dryness in vacuo [3].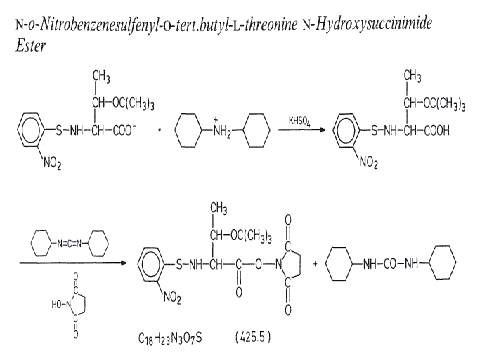 Keywords
Amino Acid Analysis 
Active Ester 
Hydrogen Sulfate 
Methane Sulfonic Acid 
Seal Ampoule 
These keywords were added by machine and not by the authors. This process is experimental and the keywords may be updated as the learning algorithm improves.
Copyright information
© Springer-Verlag Berlin Heidelberg 1984