Abstract
Early in the development of an angiosperm or gymnospern embryo the apical meristems of both the embryonic epicotyl and radicle become active. The
delimitation
of the
embryonic root
thus begins rapidly,
e.g.
within 7 to 8 days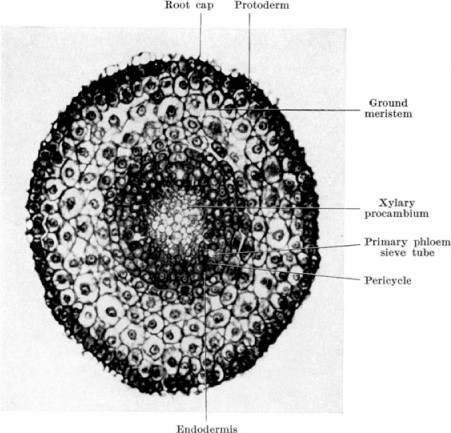 after fertilization, the embryo of
Phlox Drummondii
develops a root cap covering an apical region of cylindrical root meristem (
Miller
and
Wetmore
1945). Although variations among species exist in the extent of differentiation of tissues in the embryonic root and in the exact ontogeny of these tissues (
Guttenberg
1940;
Allen
1947 a, b;
Esau
1954), a typical
radicle
may be described as a cylindrical organ of meristematic cells with a
conical cap
covering the tip. Interior to this conical root cap, the radicle is composed of (1) the
apical meristem
, (2) the
central procambial core
surrounded by the meristematic
cortical cylinder
or
ground meristem
, and (3) the
outer protoderm
. The protoderm, the outermost meristem, gives rise to the
epidermis
(Fig. 1).
Copyright information
© Springer-Verlag OHG. Berlin · Göttingen · Heidelberg 1956