The function of the mating-type locus in filamentous Ascomycetes
Abstract
Heterothallism in the Euascomycetes has been of interest to mycologists ever since its discovery by Dodge (1920) in Ascobolus magnificus. In this classic paper, he showed that heterothallism in this species is a genetically determined condition in which the two mating groups (A, a) are determined by the two alleles (A, a) at a single locus. About a decade later, Gwynne-Vaughan and Williamson (1932) proved that the two mating groups are not the opposite sexes; that is, all strains are hermaphroditic.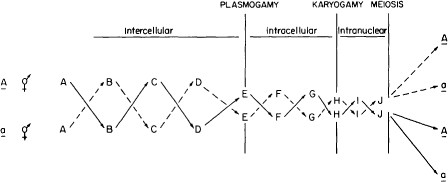 Keywords
Fruit Body 
Sexual Reproduction 
Opposite Mating Type 
Asexual Spore 
Filamentous Ascomycete 
These keywords were added by machine and not by the authors. This process is experimental and the keywords may be updated as the learning algorithm improves.
Copyright information
© Springer-Verlag Berlin · Heidelberg 1965