A Kinetic Investigation of Laser-Chemical Deposition of Iron Pentacarbonyl Films
Abstract
The kinetics of LCD films of iron pentacarbonyl Fe(CO)
5
vapour have been studied* Fig.1 shows a block diagram of a LCD apparatus* The radiation used was the fourth harmonic of neodymium laser (λ = =266 nm,
τ
=15 ns,
f
=25 Hz, average power W=0.01 to 0.3 mW) which was focused onto a substrate as a spot of 150 µm in diameter. By their appearance the deposits were clearly divided into two distinct regions. The central region was formed in the area immediately exposed to the laser beam being of the same shape as the latter. In this region the deposit had a good adhesion and could not be notched with a steel blade. In the second region (beyond the immediately exposed spot) the deposit is also glossy but has a much poorer adhesion (the film is easily separated). From the fact that a film deposit was also formed beyond the exposed region it can be inferred that the deposition occurs as a result of the photolysis of Fe(CO)
5
within the laser beam volume.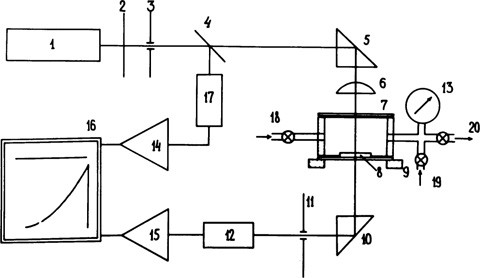 Keywords
Deposition Rate 
Laser Flash 
Quantum Energy 
Exposed Region 
Laser Flash Photolysis 
These keywords were added by machine and not by the authors. This process is experimental and the keywords may be updated as the learning algorithm improves.
Copyright information
© Springer-Verlag Berlin, Heidelberg 1986