Abstract
It was found recently that annealing
cis
-polyaeetylene[(CH)
x
] doped with potassium, at temperatures higher than 140°C, produces a large permanent increase in its room temperature d.c. conductivity by a factor of 5–10 (Fig. 1). The annealed films are remarkably stable even at temperatures as high as 200°C (1).A somewhat smaller effect was observed on Rb-doped samples, whereas Li-doped, Na-doped and Cs-doped
cis-
(CH)
x
did not show any substantial conductivity increase upon annealing (1). This behavior of n-doped (CH)
x
contrasts sharply with that of the p-doped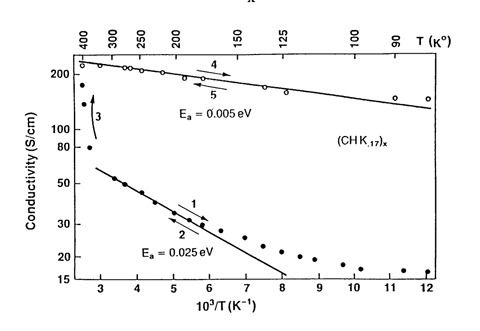 samples, which degrade quickly and irreversibly upon even a modest increase of temperature (2).
Keywords
Neutron Diffraction 
Lower Symmetry 
Annealed Film 
Waller Factor 
Position Sensitive Detector 
These keywords were added by machine and not by the authors. This process is experimental and the keywords may be updated as the learning algorithm improves.
Copyright information
© Springer-Verlag Berlin Heidelberg 1985