Abstract
It must be recognized that there is not a single vitamin D compound but that there is a family of compounds that exhibit vitamin D activity. The most important of the vitamin D compounds are vitamins D
2
and D
3
(Fig. 1), and the more important of these is vitamin D
3
or cholecalciferol. The basis for this statement is that vitamin D
3
is the vitamin produced in the skin by ultraviolet irradiation. Vitamin D
2
, however, is produced by ultraviolet irradiation of the plant sterol ergosterol (Fig. 2). The photolysis reaction that converts the 5,7-diene sterols to the corresponding D vitamins, as shown in Fig. 3 has been examined intensively. It is known that 250–310 nm ultraviolet light brings about the photolytic conversion of vitamin D to the previt-amin D (H
avinga
, 1973, V
elluz
and A
miard
, 1949a). Further activation by light photons brings about the formation of tachysterol, a relatively unstable irradiation product, and lumisterol. The previtamin D is in thermal equilibrium with vitamin D
3
and upon heating will rapidly convert to the vitamin D structure. The equilibrium is temperature dependent, and the relative concentrations of the forms of vitamin D at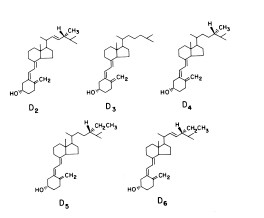 equilibrium are a function of temperature (V
elluz
and A
miard
, 1949b; V
elluz
et al., 1949). At room temperature the conversion of the previtamin to the vitamin is slow, and even at skin temperatures it is a very slow process.
Keywords
Nuclear Magnetic Resonance 
Nuclear Magnetic Resonance Spectrum 
Skin Temperature 
Ultraviolet Irradiation 
World Monkey 
These keywords were added by machine and not by the authors. This process is experimental and the keywords may be updated as the learning algorithm improves.
Copyright information
© Springer-Verlag Berlin, Heidelberg 1979