Inactivation of Glutamine Synthetase in Intact E. coli Cells
Abstract
Addition of small amounts of NH
4
+
(at final concentration 10
-4
M, for example) to suspensions of
E
.
coli
which have grown in ammonium-free medium leads to a rapid inactivation of glutamine synthetase (1, see figure 1). Pursuit of this observation led to the discovery of an ATP-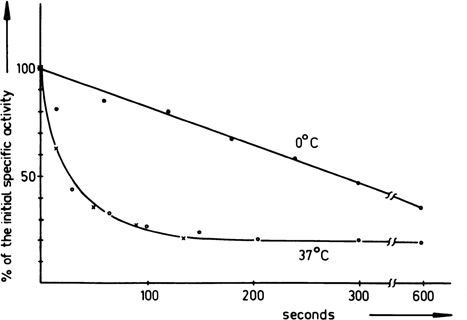 and glutamine-dependent, glutamine synthetase-inactivating enzyme (2). Further research by Earl Stadtman's group in Bethesda and ours in Freiburg (3,4) elucidated a system for the regulation of glutamine synthetase by effector-controlled, enzyme-catalyzed, covalent modification schematized in figure 2. The findings collected in figure 2 are based on studies with extracts of
E
.
coli
and with the purified enzymes.
Copyright information
© Springer-Verlag Berlin · Heidelberg 1972