Regeneration of Plants from Protoplast of Cultivated Strawberry (Fragaria x ananassa) and Wild Strawberry (Fragaria vesca)
Part of the Biotechnology in Agriculture and Forestry book series (AGRICULTURE, volume 23)
Abstract
At least 14 species from 4 different ploidy groups are currently recognized in the strawberry genus
Fragaria
: eight diploids, two tetraploids, one hexaploid, and three octaploid species (Table 1). The most widely planted strawberry, F. x
ananassa
Duch. (2n = 8 x = 56), is actually not a species, but a man-made hybrid between two native American strawberries:
F. chiloensis
Duch. (2n = 8 x =56) and
F. virginiana
Duch. (2n = 8 x = 56). These two species were introduced to Europe during the seventeenth and eighteenth centuries and were later, by chance, intercrossed. Much of the improvement in cultivar performance is, however, a result of breeding over the past 50 years and it is within this period that strawberries attained extensive popularity throughout the world (Scott and Lawrence 1975; Shaw 1990). The cultivated strawberry (F. x.
ananassa
Duch.) is a vegetatively propagated, highly heterozygous crop which displays a wide variation in adaptation to environmental conditions. It is grown all over the arable world and the world production in 1989 was very close to 2000000 metric tons (Hancock et al. 1991).
Fragaria vesca
L. and F. moschata Duch. are also grown commercially,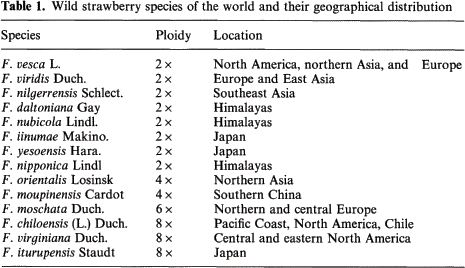 but on a much smaller scale,
Fragaria vesca
L. is grown in Europe and North America and
F. moschata
Duch, is found primarily in Europe. The high ploidly level and strong heterozygosity are characters that impose difficulties when this species is bred according to conventional strategies (Nehra et al. 1990b).
Keywords
Protoplast Isolation 
Strawberry Plant 
Direct Gene Transfer 
Wild Strawberry 
Fragaria Vesca 
These keywords were added by machine and not by the authors. This process is experimental and the keywords may be updated as the learning algorithm improves.
Copyright information
© Springer-Verlag Berlin Heidelberg 1993