Abstract
The major features of the replication cycle of vaccinia virus (W) are outlined in Fig. 1 (Moss 1974). For the sake of this discussion, note that expression of the viral genetic program can be subdivided into two distinct major phases, early and late, which are delineated by replication of the viral DNA molecule. Prior to DNA synthesis, early VV genes, representing about one-half of the viral genetic potential, are transcribed by enzymes and factors present within the incoming virion into distinct 5′-capped/3′-polyadenylated mRNAs, which encode a variety of enzymatic activities including those involved in nucleotide metabolism and DNA replication. Once the W early genes have been expressed, the core particle disintegrates, liberating the viral DNA which is then replicated within large cytoplasmic inclusion bodies known as "virosomes" or "virus factories". The virosome, which consists of large aggregates of viral protein and catenated VV DNA, is also the site of subsequent assembly of immature viral particles. Concomitant with the onset of viral DNA replication, the transcription of early genes is attenuated and the expression of VV late genes is initiated. VV late RNAs have two unique structural features, namely, no distinct 3′-ends and the presence of a short (30 nt) 5′-poly(A) leader (Weir and Moss 1984; Schwer et al. 1987.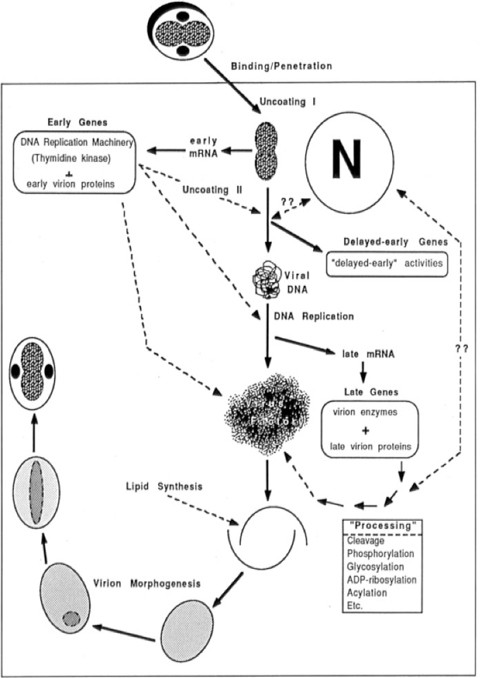 Keywords
Vaccinia Virus 
Thymidine Kinase 
Proteolytic Processing 
Vaccinia Virus Infection 
Immature Viral Particle 
These keywords were added by machine and not by the authors. This process is experimental and the keywords may be updated as the learning algorithm improves.
Copyright information
© Springer-Verlag Berlin · Heidelberg 1990