Abstract
The existence of a cloud of dust particles that pervades interplanetary space has long been known from the presence of its optical manifestation, the zodiacal light. This dim glow, best seen about one hour after sunset or before sunrise, when its brighter inner parts are above the horizon, was one of the first phenomena recognized as originating in interplanetary space. Given its conspicious appearance at low geographic latitudes (Fig. 5.1) one may wonder that there were no records of it until the end of the 17th century, when Cassini (1683) announced its discovery and offered the correct explanation: it is sunlight, scattered off myriads of small particles orbiting the sun. Towards the sun it continues with increasing brightness; the innermost parts can be seen during solar eclipses or from space as the F component (showing Fraunhofer lines) of the solar corona. Photometric measurements have shown that it covers the whole sky, but it is brightest in a band along the ecliptic. Around the antisolar point it brightens again; this Gegenschein can be seen by the naked eye under exceptional conditions.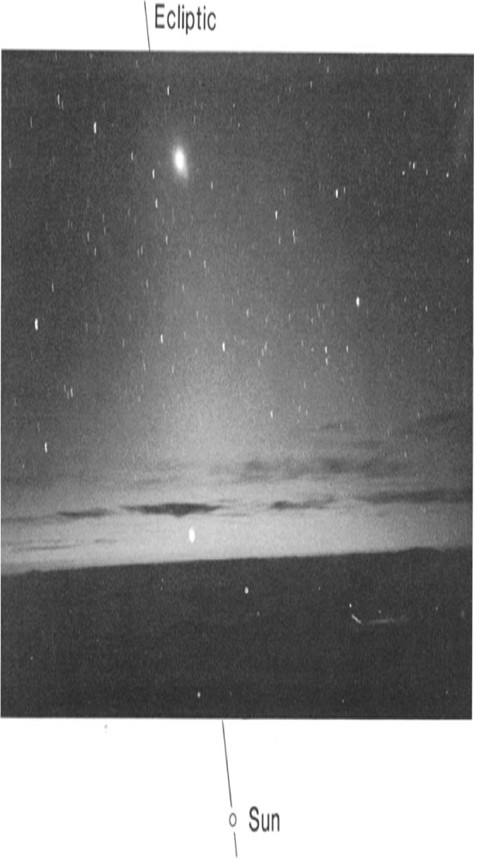 Keywords
Solar Wind 
Dust Particle 
Radiation Pressure 
Heliocentric Distance 
Interplanetary Space 
These keywords were added by machine and not by the authors. This process is experimental and the keywords may be updated as the learning algorithm improves.
References
Conference Proceedings and Review Books
Copyright information
© Springer-Verlag Berlin Heidelberg 1990