Abstract
The differentiation of large numbers of GMG cells in the decidua basalis and the mesometrial triangle and their disappearance from these sites largely before parturition compounds the as yet unresolved question of their function. It has long been known that some GMG cells die in situ in the decidua basalis and metrial gland whilst other apparently normal healthy GMG cells can be seen in blood vessels (Fig. 27). Jenkinson (1902) described disruption and breakdown of "maternal glycogen cells" (GMG cells) and signs of granular debris in the pregnant mouse uterus as well as observing the intrusion of "maternal glycogen cells" into blood vessels. He even commented that the glycogen cells "appear to be actually forcibly making their way into blood vessels". Gerard (1927) also clearly saw GMG cells in blood vessels. No proof has established the directional movement of GMG cells but they may readily be fixed whilst apparently passing through blood vessel walls (Figs. 28a, b) and it has been assumed that the migration is from the stroma of the decidua basalis and metrial gland to the blood vessels which then carry them to the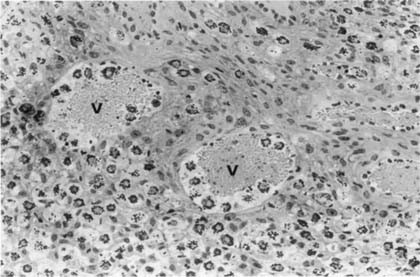 placenta and other sites. Understanding the fate of GMG cells which die in situ and those which enter maternal vessels should help to answer the question of their function.
Keywords
Trophoblast Cell 
Inbred Mouse 
Pyknotic Nucleus 
Trophoblastic Giant Cell 
Outbred Mouse 
These keywords were added by machine and not by the authors. This process is experimental and the keywords may be updated as the learning algorithm improves.
Copyright information
© Springer-Verlag Berlin Heidelberg 1989