Deliberate Overdosage in a Hospital Catchment Area: Preliminary Results of a 7-Year Study
Abstract
In 1977, it was estimated that if the current trend in self-poisoning continued, within 10 years in England and Wales, every available emergency medical bed would be occupied by a patient admitted as a result of an overdose (Jones 1977). As it so happened, the timing of this prediction coincided with the reversal of this trend and a progressive decrease in the overall numbers. Figure 1 shows the considerable increase that occurred during the mid-1960s both in fatal and non-fatal self-poisoning. Whereas fatal self-poisoning reached a plateau after 1969, the rise in non-fatal self-poisoning continued for a further 8 years. The ratio of admissions to deaths rose from 10:1 to over 30:1, a factor which was not due to radical improvements in the treatment of overdosed patients. Since 1977, mortality has declined by 25% and admissions have decreased by over 20% according to figures published in the Hospital In-Patient Enquiry for England and Wales. The purpose of this present survey has been to determine the extent of deliberate self-poisoning within a defined area and provide a detailed analysis of the substances taken, persons involved and the overall outcome.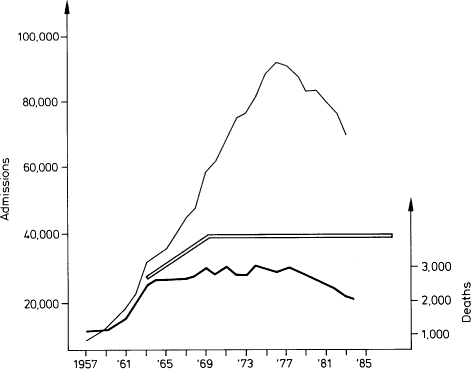 Keywords
Drug Cocktail 
Noxious Substance 
Strong Analgesic 
Overdose Patient 
Hospital Catchment Area 
These keywords were added by machine and not by the authors. This process is experimental and the keywords may be updated as the learning algorithm improves.
Copyright information
© Springer-Verlag Berlin Heidelberg 1988