Abstract
It is widely accepted that myosin-linked regulation, specifically the reversible phosphorylation of myosin, represents the primary Ca
2+
-dependent mechanism for the regulation of smooth muscle contraction. This mechanism is illustrated schematically in Fig. 1. Stimulation (nervous or hormonal) of the smooth muscle cell leads to an elevation of the cytosolic Ca
2+
concentration (Somlyo 1985) whereupon Ca
2+
binds to calmodulin (CaM) to form Ca
4
2+
· CaM. This binding of Ca
2+
to calmodulin induces a conformational change in the calmodulin molecule (Klee 1977); only in this altered conformation can calmodulin bind to the target enzyme, myosin light chain kinase (MLCK), to form the ternary complex Ca
4
2+
· CaM · MLCK. The apoenzyme of MLCK is inactive, whereas the ternary complex is fully active (Walsh and Hartshorne 1982). In this activated state, MLCK catalyzes the phosphorylation of myosin, specifically at serine-19 of each of the two 20,000-Da light chains (Pearson et al. 1984). Only in the phosphorylated state is myosin capable of interaction with actin filaments,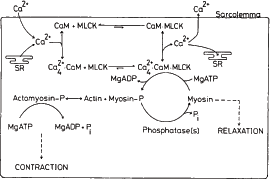 whereupon the Mg
2+
-ATPase activity of myosin is greatly enhanced (Sobieszek 1977) providing the driving force for contraction, which apparently occurs by a crossbridge cycling-sliding filament mechanism similar to that described for striated muscle (H.E. Huxley and Hanson 1954; A.F. Huxley and Niedergerke 1954). Relaxation is thought to occur when the cytosolic Ca
2+
concentration returns to resting levels.
Keywords
Thin Filament 
Myosin Light Chain Kinase 
Smooth Muscle Myosin 
Chicken Gizzard 
Skeletal Myosin 
These keywords were added by machine and not by the authors. This process is experimental and the keywords may be updated as the learning algorithm improves.
Copyright information
© Springer-Verlag Berlin Heidelberg 1988