Abstract
The osmoregulatory system of the elasmobranchs (cartilaginous fishes) has often been regarded as a physiological oddity. As far back as 1858, the muscles of sharks were found to contain the waste product urea at concentrations a 100-fold those of other animals; and in 1909 unusually high levels of the methylamine compounds betaine and trimethylamine oxide (TMAO) were discovered in muscle also. In the early 1900's, Frédericq, Hoppe-Seyler, H. Smith, and others demonstrated that these compounds form the basis of an osmoregulatory system that appears to differ greatly from those of the rest of the animal kingdom (reviewed by Smith 1936). Figure 1 shows some relatively recent analyses of extracellular (E) and intracellular muscle (I) fluids of two cartilaginous fishes, a shark and a chimaera (holocephalan). As can be seen, these fishes are isosmotic or slightly hyperosmotic to seawater (SW) (Fig. 1), quite unlike the majority of marine vertebrates, which are markedly hypo osmotic (represented by the teleost flatfish, Fig. 1). In this respect elasmobranchs are more like marine invertebrates; however, about one-half the osmotic pressure in the former is due to urea and TMAO in both blood and cell, distinct from the universal use of inorganic ions (extracellular) and free amino acids (intracellular) among the latter organisms (see Clark, this volume).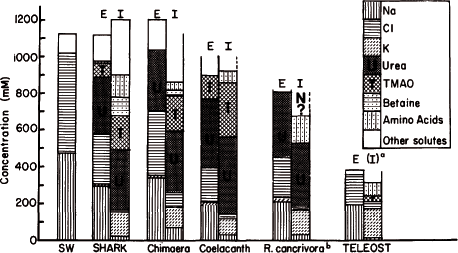 Keywords
Free Amino Acid 
Cartilaginous Fish 
Carbamoyl Phosphate Synthetase 
Argininosuccinate Lyase 
Elasmobranch Fish 
These keywords were added by machine and not by the authors. This process is experimental and the keywords may be updated as the learning algorithm improves.
Copyright information
© Springer-Verlag Berlin Heidelberg 1985