Abstract
Although the isolation of lymphocytic choriomeningitis virus (LCMV), the prototype member of the arenavirus group, was initially reported by Armstrong and Lillie in 1934, the virus remained unclassified for many years because of the lack of information on its biochemical properties and morphology. Dalton and co-workers (1968) first described the ultrastructure of the LCM virion; virus particles were found to be enveloped and varied greatly in size, ranging from 50 to over 200 nm in diameter. The most distinctive ultrastructural feature was the presence of one to eight or more electron-dense granules, which have subsequently been demonstrated to be host cell-derived ribosomes (see below). Following this report, Murphy and co-workers (1969) demonstrated striking morphological similarities between LCMV and Machupo and Tacaribe viruses, two members of a group of antigenically related viruses termed "the Tacaribe complex." These investigators proposed that the viruses of the Tacaribe complex and LCMV be placed in a new taxonomic group based on their morphological similarity. A serological relationship of LCMV to the members of the Tacaribe complex was also demonstrated using immunofluorescence (Rowe et al. 1970b). The name "arenovirus" (from arenosus, L., "sandy") was initially proposed to reflect the characteristic granules seen in the virions in ultrathin sections (ROWE et al. 1970 a). It was noted that the virions were morphologically distinct from other RNA-containing enveloped viruses because of the lack of a welldefined helical nucleocapsid and the presence of the electron-dense internal granules. The designation "arenavirus" was subsequently accepted for the taxonomic group (Pfau et al. 1974) and the viruses established as the family Arenaviridae (Matthews 1982). The members of the group which have now been identified are listed in Table 1.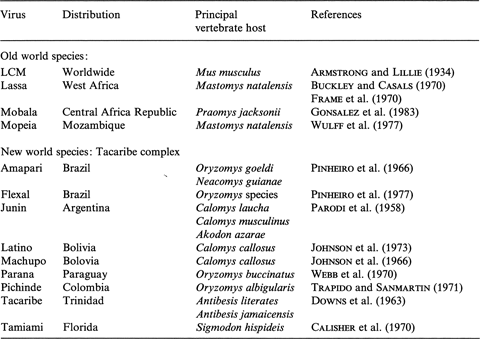 Keywords
BHK21 Cell 
Lymphocytic Choriomeningitis 
Lassa Fever 
Lymphocytic Choriomeningitis Virus 
Glycoprotein Precursor 
These keywords were added by machine and not by the authors. This process is experimental and the keywords may be updated as the learning algorithm improves.
Copyright information
© Springer-Verlag Berlin · Heidelberg 1985