Structural Variations of Cervical Cancer and Its Precursors Under the Influence of Exogenous Hormones
Part of the Current Topics in Pathology book series (CT PATHOLOGY, volume 70)
Abstract
Besides the widespread use of hormones for contraception, pure estrogens are given to relieve menopausal symptoms and progestogens are prescribed for the treatment of endometriosis and endometrial carcinoma. In recent years this has provided opportunities for studying certain structural differentiations which emerge during the process of carcinogenesis in the cervix. These observations are based on prolonged study of the different effects of estrogens and progestogens on the squamous epithelium of the ectocervix and the mucosa of the endocervical canal. Estrogens stimulate proliferation of the stratified squamous epithelium of the ectocervix, but not that of the columnar epithelium of the endocervix. Progestogens stimulate the columnar epithelium and the reserve cells beneath it,'but not the squamous epithelium. When an epithelial defect develops on the external surface of the cervix because of erosion of the vulnerable columnar epithelium that has grown out at that site as the result of ectopia, under estrogenic stimulation it becomes reepithelialized mainly by the stratified squamous epithelium: the defect is covered by regenerative epithelium (Fig. 1), which grows over it from outside and spreads upward, i.e., from the external surface into the cervical canal. Under conditions of progestogenic stimulation, on the other hand, proliferation of the reserve cells of the cervical mucosa in the form of reserve cell hyperplasia (Fig. 2) often precedes regeneration of the squamous epithelium.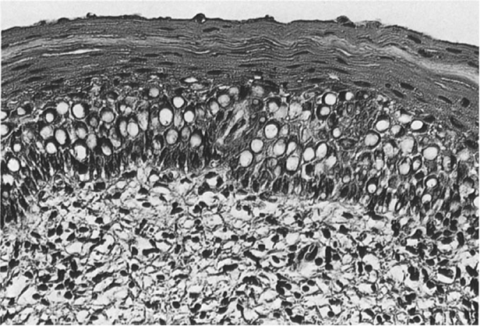 Keywords
Oral Contraceptive 
Squamous Epithelium 
Intraepithelial Neoplasia 
Uterine Cervix 
Mucoepidermoid Carcinoma 
These keywords were added by machine and not by the authors. This process is experimental and the keywords may be updated as the learning algorithm improves.
Copyright information
© Springer-Verlag Berlin Heidelberg 1981