Abstract
Vesicular stomatitis virus (VS) is an enveloped Rhabdovirus which is capable of productively infecting a multitude of hosts including many mammalian species, fish, and insects (Howatson, 1970; Bussereau, 1973). Two serotypes of VS virus have been identified: VSIndiana and VSNew Jersey (Pringle, 1975). The standard infectious virions of either serotype are rods (rhabdos = rod) of approximately 175 × 68 nm which have one hemispherical and one planar end and contain a helical nucleocapsid of approximately 30 equal turns followed by 4 or 5 diminishing coils at the rounded end (Howatson, 1970) (Fig. 1). Thus, virions appear bullet-shaped. Numerous "spikes" measuring 10 nm in length project externally from the entire surface of the viral envelope. Defective interfering (DI) particles which have the same morphology but are shorter and contain incomplete genomes are also produced at high multiplicities of infection. The viral envelope is acquired during maturation when nucleocapsids bud through pre-existing cell membranes; the site of budding varies according to the host species and can be on either the plasma membrane or the membranes of intracytoplasmic vesicles or on both (Zee et al., 1970).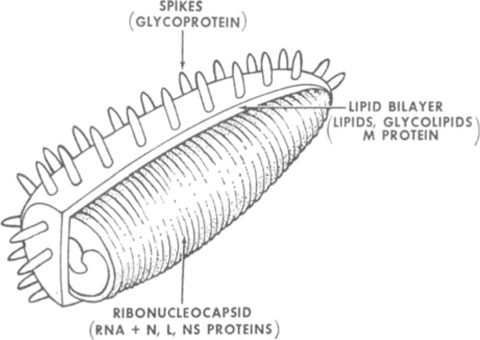 Keywords
Vesicular Stomatitis Virus 
Complementation Group 
Virion Component 
Defective Interfere 
Defective Interfere Particle 
These keywords were added by machine and not by the authors. This process is experimental and the keywords may be updated as the learning algorithm improves.
Copyright information
© Springer-Verlag, Berlin · Heidelberg 1976