The Formation of the Chlorophyll Maximum in the Indian Ocean
Part of the Ecological Studies book series (ECOLSTUD, volume 3)
Abstract
A typical section of chlorophyll a distribution is shown in Fig. 1. As for the surface water, the amount of chlorophyll a was 0.1 mg m-3 in the nothern area and below 0.05 mg m-3 in the southern area. A distinct chlorophyll maximum was found in the layers at depths of 50 to 75 m in the north near the Equator (0.3–0.6 mg m-3), and at 100 to 125 m in the south (0.2–0.3 mg m-3). In this area the layer of the chlorphyll maximum was generally located in the upper part of the thermocline.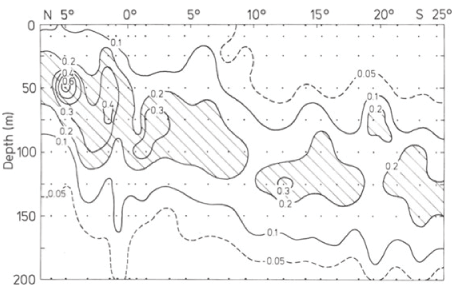 Keywords
Indian Ocean 
Particulate Organic Matter 
Particulate Organic Carbon 
Skeletonema Costatum 
Chlorophyll Maximum 
These keywords were added by machine and not by the authors. This process is experimental and the keywords may be updated as the learning algorithm improves.
Copyright information
© Springer-Verlag Berlin · Heidelberg 1973