Phase diagram of Mo-Ru (molybdenum-ruthenium) system
Part of the Physical Chemistry book series (volume 12D)
Abstract
This chapter provides the phase diagram of Mo-Ru (molybdenum-ruthenium) system.
Phase Diagram
Gürler [
99Gür
] has investigated the phase equilibria at temperatures between 970 K and 1470 K. The results obtained are plotted in Fig.
1
. They used ultra-rapidly solidification of the samples. In thus prepared alloys using heat treatment very rapidly the equilibrium could be achieved. The calculated solubility data are rather similar to experimentally found ones.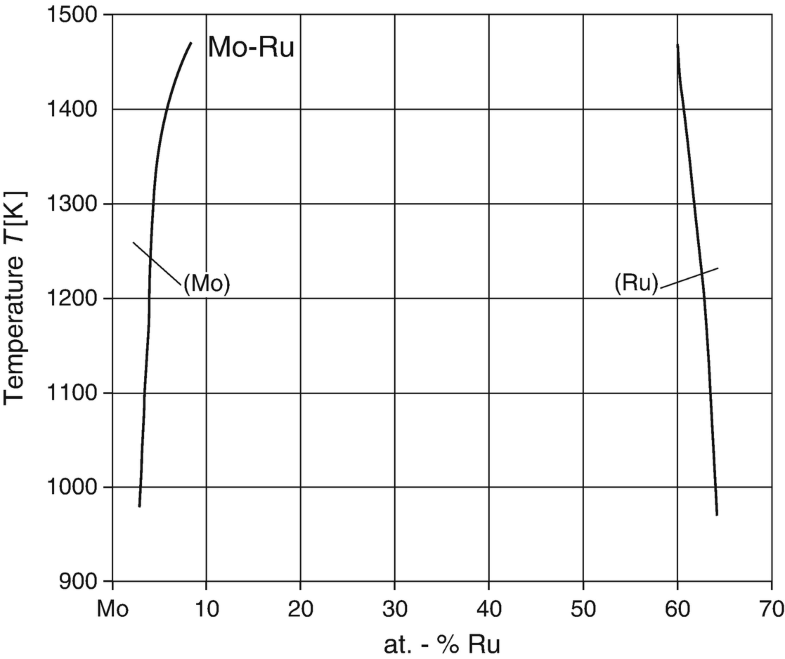 Crystal Structure
The lattice constants for heat-treated samples are in good agreement with those found previously [Landolt–Börnstein].
References
[99Gür]

[Landolt-Börnstein]

Predel, B.: Crystallographic and Thermodynamic Data of Binary Alloys, IV/5-H; O. Madelung, Editor, Phase Equil., Springer Verlag (1997)

Google Scholar
Copyright information
© Springer-Verlag Berlin Heidelberg 2016