Phase diagram of Mg-Zr (magnesium-zirconium) system
Part of the Physical Chemistry book series (volume 12D)
Abstract
This chapter provides the phase diagram of Mg-Zr (magnesium-zirconium) system.
Phase Diagram
Using thermodynamic informations from literature Hämäläinen et al. [
99Häm
] have calculated the phase equilibria. The phase diagram thus obtained is shown in Fig.
1
. There is only little mutual solubility in the liquid as well as in the solid state. It should be mentioned that the phase equilibria for Mg-rich alloys (<2 atom-% Zr) have been presented in an enlarged version by [
Landolt–Börnstein
].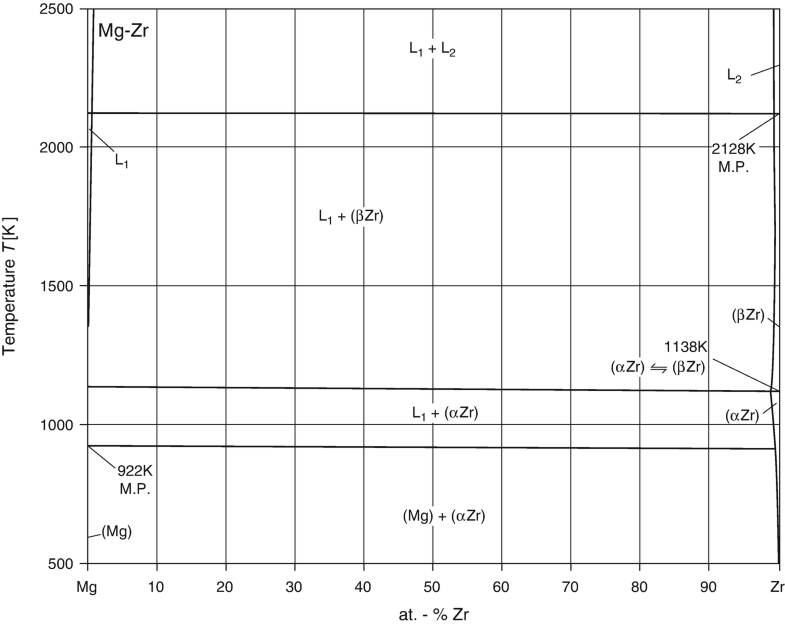 References
[99Häm]

[Landolt-Börnstein]

Predel, B.: Crystallographic and Thermodynamic Data of Binary Alloys, IV/5-H; O. Madelung, Editor, Phase Equil., Springer Verlag (1997)

Google Scholar
Copyright information
© Springer-Verlag Berlin Heidelberg 2016