Phase diagram of K-O (potassium-oxygen) system
Part of the Physical Chemistry book series (volume 12D)
Abstract
This chapter provides the phase diagram of K-O (potassium-oxygen) system.
Phase Diagram
Using results of DTA by Natola et al. [
70Nat
] up to 33.3 atom-% O and taking results of calculations of experimentally determined data from Byker et al. [
79Byk
] (33.3 atom-% to 70 atom-% O) Okamoto [
99Oka
] has constructed a partial (up to 70 atom-% O) phase diagram which is shown in Fig.
1
.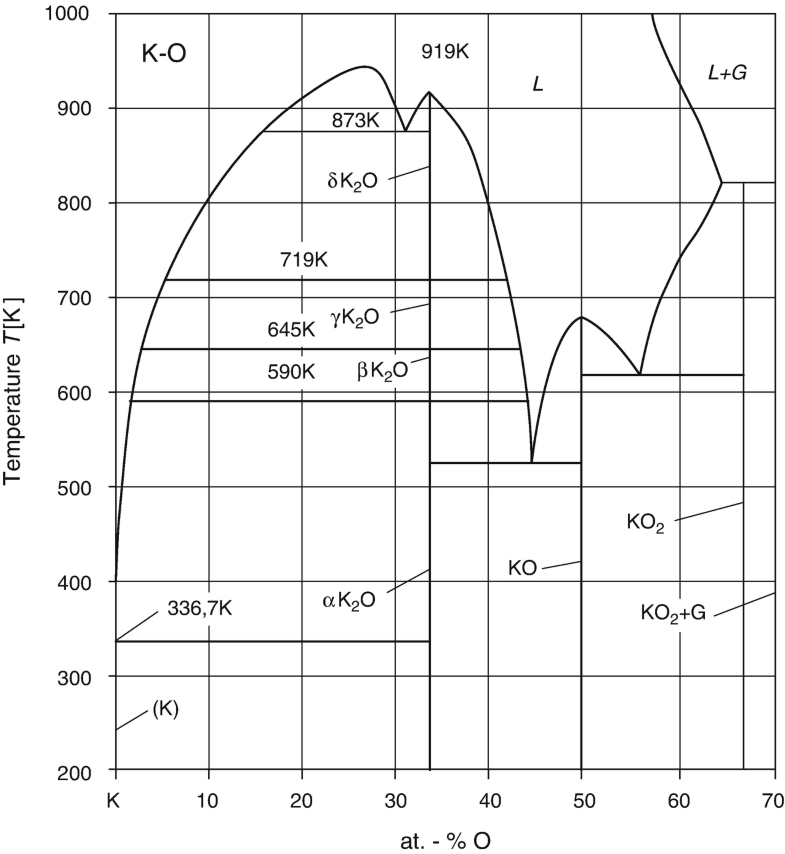 Symbols and abbreviations
| Short form | Full form |
| --- | --- |
| DTA | differential thermal analysis |
References
[70Nat]

[79Byk]

Byker, H.J., Eliezer, I., Howald, R.C., Ehlert, T.C.: High-Temp. Mater. Sci.

11

(1979) 153

Google Scholar

[99Oka]
Copyright information
© Springer-Verlag Berlin Heidelberg 2016