Abstract

Carotenoids are micronutrients present in fruits and vegetables and ingested with the diet. They exhibit specific antioxidant activity and also influence cellular signaling and gene expression at the cellular level. b-Carotene and lycopene, the colorants of carrots respectively tomatoes, are among the most prominent members of this group and the dominating carotenoids in human blood and tissues. Both compounds modulate skin properties when ingested with supplements or dietary products. They protect against sunburn by increasing the basal defense against UV light-mediated damage to the skin although their efficacy is not comparable to the use of a sunscreen. In-vitro data provide evidence that also other carotenoids are efficient photoprotectors. Among them are lutein and structurally unusual phenolic polyenes like 3,3'-dihydroxyisorenieratene.
Keywords
Carrot Juice

Singlet Oxygen Quenching

Tomato Extract

Singlet Molecular Oxygen

Human Intervention Study
These keywords were added by machine and not by the authors. This process is experimental and the keywords may be updated as the learning algorithm improves.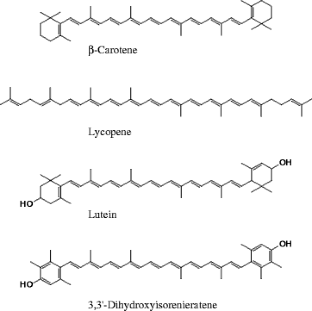 References
Aust, O., Stahl, W., Sies, H., Tronnier, H., Heinrich, U.: Supplementation with tomato-based products increases lycopene, phytofluene, and phytoene levels in human serum and protects against UV-light-induced erythema. Int. J. Vitam. Nutr. Res. 75, 54–60 (2005)

Berwick, M., Lachiewicz, A., Pestak, C., Thomas, N.: Solar UV exposure and mortality from skin tumors. Adv. Exp. Med. Biol. 624, 117–124 (2008)

Biesalski, H.K., Tinz, J.: Nutritargeting. Adv. Food Nutr. Res. 54, 179–217 (2008)

Boelsma, E., Hendriks, H.F., Roza, L.: Nutritional skin care: health effects of micronutrients and fatty acids. Am. J. Clin. Nutr. 73, 853–864 (2001)

Brenneisen, P., Sies, H., Scharffetter-Kochanek, K.: Ultraviolet-B irradiation and matrix metalloproteinases: from induction via signaling to initial events. Ann. NY Acad. Sci. 973, 31–43 (2002)

Garmyn, M., Ribaya-Mercado, J.D., Russell, R.M., Bhawan, J., Gilchrest, B.A.: Effect of beta-carotene supplementation on the human sunburn reaction. Exp. Dermatol. 4, 104–111 (1995)

Gollnick, H.P.M., Hopfenmüller, W., Hemmes, C., Chun, S.C., Schmid, C., Sundermeier, K., Biesalski, H.K.: Systemic beta carotene plus topical UV-sunscreen are an optimal protection against harmful effects of natural UV-sunlight: results of the Berlin-Eilath study. Eur. J. Dermatol. 6, 200–205 (1996)

Heinrich, U., Gartner, C., Wiebusch, M., Eichler, O., Sies, H., Tronnier, H., Stahl, W.: Supplementation with beta-carotene or a similar amount of mixed carotenoids protects humans from UV-induced erythema. J. Nutr. 133, 98–101 (2003)

Heinrich, U., Tronnier, H., Stahl, W., Bejot, M., Maurette, J.M.: Antioxidant supplements improve parameters related to skin structure in humans. Skin Pharmacol. Physiol. 19, 224–231 (2006)

Kopcke, W., Krutmann, J.: Protection from sunburn with beta-carotene–a meta-analysis. Photochem. Photobiol. 84, 284–288 (2008)

Krinsky, N.I., Johnson, E.J.: Carotenoid actions and their relation to health and disease. Mol. Aspects Med. 26, 459–516 (2005)

Martin, H.D., Kock, S., Scherrers, R., Lutter, K., Wagener, T., Hundsdörfer, C., Frixel, S., Schaper, K., Ernst, H., Schrader, W., Görner, H., Stahl, W.: 3, 3′-Dihydroxyisorenieratene, a natural carotenoid with superior antioxidant and photoprotective properties. Angew. Chem. Int. Ed. 48, 400–403 (2009)

McNaughton, S.A., Marks, G.C., Green, A.C.: Role of dietary factors in the development of basal cell cancer and squamous cell cancer of the skin. Cancer Epidemiol. Biomark. Prev. 14, 1596–1607 (2005)

Ribaya-Mercado, J.D., Garmyn, M., Gilchrest, B.A., Russell, R.M.: Skin lycopene is destroyed preferentially over β-carotene during ultraviolet irradiation in humans. J. Nutr. 125, 1854–1859 (1995)

Seren, S., Lieberman, R., Bayraktar, U.D., Heath, E., Sahin, K., Andic, F., Kucuk, O.: Lycopene in cancer prevention and treatment. Am. J. Ther. 15, 66–81 (2008)

Sharoni, Y., Danilenko, M., Dub, N., Ben-Dor, A., Levy, J.: Carotenoids and transcription. Arch. Biochem. Biophys. 430, 89–96 (2004)

Sies, H., Stahl, W.: Nutritional protection against skin damage from sunlight. Annu. Rev. Nutr. 24, 173–200 (2004)

Stahl, W., Heinrich, U., Jungmann, H., Sie, H., Tronnier, H.: Carotenoids and carotenoids plus vitamin E protect against ultraviolet light-induced erythema in humans. Am. J. Clin. Nutr. 71, 795–798 (2000)

Stahl, W., Heinrich, U., Wiseman, S., Eichler, O., Sies, H., Tronnier, H.: Dietary tomato paste protects against ultraviolet light-induced erythema in humans. J. Nutr. 131, 1449–1451 (2001)

Stahl, W., Sies, H.: Antioxidant activity of carotenoids. Mol. Aspects Med. 24, 345–351 (2003)

Whitehead, A.J., Mares, J.A., Danis, R.P.: Macular pigment: a review of current knowledge. Arch. Ophthalmol. 124, 1038–1045 (2006)
Acknowledgements

Parts of our studies have been supported by the Deutsche Forschungsgemeinschaft (SFB 663, B1).
Copyright information

© 2010 Springer Berlin Heidelberg
About this chapter
Cite this chapter
Stahl, W. (2010). Systemic Photoprotection by Carotenoids. In: Krutmann, J., Humbert, P. (eds) Nutrition for Healthy Skin. Springer, Berlin, Heidelberg. https://doi.org/10.1007/978-3-642-12264-4_6
DOI: https://doi.org/10.1007/978-3-642-12264-4_6

Published:

Publisher Name: Springer, Berlin, Heidelberg

Print ISBN: 978-3-642-12263-7

Online ISBN: 978-3-642-12264-4

eBook Packages: MedicineMedicine (R0)