Governance: Key for Environmental Sustainability in the Hindu Kush Himalaya
Abstract
The governance of environmental resources holds the key to the future of sustainable development in the Hindu Kush Himalaya (HKH). 1. Institutional innovation—for landscape level governance, upstream-downstream linkages, and for translating policy goals into action; 2. Upscaling and institutionalizing decentralized and community based resource management practices; 3. Transboundary cooperation for managing connected landscapes; and 4. Science–policy–practice interface for decision making, learning and effective implementation of policies and programs.
Chapter Overview
Key Findings
1.

There are few existing regional policies and processes for environmental governance in the Hindu Kush Himalaya (HKH)—most are national and subnational. If this imbalance persists, it will undermine sustainable natural resource management in the region. Furthermore, it should be stressed, the implementation of existing policies and legislations in the HKH remains ineffective.

 

2.

Environmental governance reforms in the HKH emphasize decentralization, often creating positive local outcomes—yet these local initiatives are not adequately supported through subnational and national governance systems. Successful local initiatives involve local communities, local governments and—increasingly—local and small-scale business groups.

 

3.

HKH countries lack institutions to link upstream and downstream communities in river basins and mountain landscapes. Environmental institutions need to address the complex geography of the region. Collaboration is hampered by limited data and knowledge sharing, by weak local political representation at higher levels, and by insufficient attention to social equity and inclusion.

 
Policy Messages
1.

Governments and environmental institutions in the HKH need to act now to strengthen the interface among science, policy, and practice. Urgent actions in this direction are needed to improve policymaking, regional development planning, and adaptive environmental governance in the face of growing climate change impacts and persistent livelihoods challenges.

 

2.

Transboundary cooperation is crucial for improving environmental governance in the HKH. However, it is lacking mainly because the focus of intergovernmental initiatives has been on political and economic interests, rather than social and environmental wellbeing at the regional scale. Progress requires the establishment of formal, mutually agreeable frameworks for cooperation that are translated into action. HKH countries should build on ongoing collaboration initiatives to build and expand cooperation on complex transboundary environmental issues such as water basin management and energy security.

 

3.

Environmental policy implementation in HKH countries will improve only if national governments recognize the multi-sectorial and cross-scalar nature of environmental governance. Implementation depends on the engagement of various stakeholders, including local communities. There is also a need for facilitating upstream and downstream interactions for improving landscape level governance. For this, governments need to create regulatory frameworks and local institutional arrangements to enable the expansion of successful initiatives to empower community action and inspire community-government partnerships. There is an opportunity to learn from the past four decades of decentralization and community based resource management policies and programs and upscale and institutionalize the successful initiatives across the region.

 
This chapter identifies four governance keys to the sustainable future of the HKH:
1.

Institutional innovation—for landscape level governance, upstream-downstream linkages, and for translating policy goals into action;

 

2.

Upscaling and institutionalizing decentralized and community based resource management practices;

 

3.

Transboundary cooperation for managing connected landscapes; and

 

4.

Science–policy–practice interface for decision making, learning and effective implementation of policies and programs.

 
The governance of environmental resources holds the key to the future of sustainable development in the Hindu Kush Himalaya (HKH). Environmental resources in the region are diverse and include forest, water, biodiversity, and agriculture. The governance of these resources involves a complex ensemble of policies, institutions, policy-making practices, and implementation procedures (well-established). More broadly, the term environmental governance denotes the ways in which both formal and informal institutions act to control and manage the environment in light of various social, cultural, economic, and ecological values. It also entails questions like who benefits and who loses, and finding ways to ensure equitable sharing of benefits, costs, and risks.
While disproportionate in their influence, national environmental policies and institutions are complex and still evolving in response to many challenges of HKH environmental governance. A number of state agencies have emerged in the HKH countries, but they face challenges to achieve coordination and linkages across different levels: local, sub-national, national, regional, and global (well-established). At present, environmental governance in the HKH remains distributed unevenly across these various levels, with limited mechanisms and processes in place to build linkages across scales. Much of the planning and decision making power rests with national and subnational authorities, while regional and local authorities have much less. This imbalance in the vertical distribution of governing power is often incompatible with sustainable natural resource management (well-established).
Institutional diversity in environmental governance is growing, creating opportunities for innovation. State agencies and local communities, too, have a long history in HKH environmental governance. And non-governmental organizations, private organizations, and knowledge communities have recently become more active. In general, the space for multi-actor engagement is now expanding across the region, but this opportunity still remains underutilised (established but incomplete).
Environmental governance faces other challenges besides the dominance of national and subnational authorities. One is that environmental institutions have not yet fully adapted to the complex geography of the Hindu Kush Himalaya. As a result, the region lacks appropriate and context-specific institutions to link upstream and downstream communities in river basins (established but incomplete). Another institutional challenge is the sectoral fragmentation of environmental governance, which impedes coordination (well-established).
The HKH region has begun to see reforms in environmental governance, especially through decentralization and devolution. Many of these initiatives address new and recent concerns in the region—climate change, disaster risks, and threats to biodiversity. Other reforms have promoted shifts toward market mechanisms in resource governance, especially for the water, energy, and agriculture sectors (established but incomplete).
Although many of the reforms at the national and sub-national level aiming at decentralization and devolution have succeeded locally, they cannot have a more substantial impact without concurrent reforms in national and sub-national governance. These are needed to ensure an adequate institutional set up and linkages at various levels of governance. The reason is that local initiatives tend to prove limited when brought to scale. The limitations arise not only from poorly conceived policy frameworks, but from inadequate attention to inequalities of power and from fundamental deficits in accountability and representation. Unclear lines of authority and accountability often hinder effective devolution, and significant policy reforms are not translated into practice (established but incomplete).
Other failures of institutional effectiveness and implementation also persist. Cooperation among HKH country governments is hampered by limited cross-border knowledge sharing, as well as by recurrent geopolitical standoffs in the context of growing global significance of the region. Within the national level, governance systems characterize weak cross-scale political representation and insufficient attention to social equity and inclusion (established but incomplete). Another weakness is a continued disregard of scientific evidence which is itself limited in the context of HKH environmental systems. Although rich and abundant, local knowledge also remains underutilized in policy-making processes (established but incomplete).
Increasingly, a need is being recognized for a polycentric approach to HKH environmental resource governance: one that would emphasize new partnerships and cross-scale linkages with improved knowledge-sharing platforms for diverse stakeholders (established but incomplete). Also urgently needed are improved political articulations in the region that is undergoing rapid socioeconomic change and emerging geopolitical dynamics, and at the same time confronting serious environmental risks (established but incomplete).
While taking a broad view of environmental governance in the HKH, this chapter specifically examines three major resource sectors in the region: forest, water, and rangeland. These are the most prominent resources capturing a large part of the environmental governance space in the region-for example, 60% of the HKH region is under rangeland and 12 major river systems originate from the Himalayas. It documents the current state of governance in these sectors and describes emerging trends in environmental policy and practice. It identifies both gaps and opportunities in policy-making, in regulatory arrangements and enforceability, and in the adaptability of environmental governance to rising climate change impacts. Its central claim is that managing the resources of the HKH sustainably will depend largely on the emergence of regional and innovative institutional arrangements—to foster intergovernmental dialogue, to further common policy initiatives, and to enable collaborative trans-border community practices.
Environmental Governance and the Sustainable Development Goals
Promote a mountain-specific agenda for achieving the SDGs through increased regional cooperation among and between mountain regions and nations.
It is increasingly being recognized that international cooperation is essential for global or regional environmental governance. In HKH region such cooperation needs to be based on sharing of scientifically collected information, developing comprehensive policies and accepting innovative practices leading to sustainable and mutual benefits. There is a need to revitalize the regional partnership in decision making institutions and processes by prioritizing the uniqueness of the HKH mountains and its people and ensuring their representation in higher platforms of decision-making. It is also important to recognize the need for allocating sufficient resources for maintaining mountain ecosystems, and at the same time develop incentive mechanisms to encourage private as well as collective efforts towards conservation and sustainable use.
16.1

Exploring Changes in Environmental Governance in the HKH

This chapter focuses on assessing environmental governance and highlighting key trends and practices in policymaking, institutional dynamics, and resource management practices at local, national, sub-national, and regional levels. In Chap.  2 we have seen how environmental challenges cannot be addressed without strong and timely government interventions. It also elaborated on the consequences of poor environmental governance or a lack of it (see Sect.  2.3.3 for more details). The present chapter establishes a link between socioenvironmental change and the underlying structure of governance, which is itself changing over time. This link is important because, as we have seen in Chap.  4, researchers and practitioners consider poor governance as the third most important factor, after disasters and climate change, that poses the greatest threat to the prosperity of the region. The intention is not to make an exhaustive assessment of environmental governance in the HKH, but to identify and present specific forms of evidence that demonstrate the current state of governance and emerging trends in environmental policy and practice. In doing so, we identify gaps and opportunities related to policy making, regulatory arrangements and enforceability, and the overall adaptability of the governance system in the face of growing climate change impact in the region. We recognize that the term "environment" is broad, comprising the totality of the natural system, and we focus on three specific resource sectors—forest, water, and rangeland—to highlight key trends and practices in governance.

We take a broad view of environmental governance as an ensemble of state policies, formal and informal institutions, and practices related to the control and management of the environment for a variety of economic, cultural, ecological, and social values. In essence, environmental governance involves defining and enacting rules related to the use, control, and management of environmental resources. Such rules emerge either inside the formal system of the state (such as regulatory arrangements) or under traditional and indigenous arrangements of resource control. Regulations are defined as legally binding rules formed by the state, including constitutions, statutes, common laws, and governmental regulations, which are externally enforced (Bacho 2005).

We also consider policy-making processes and stakeholder engagement as essential components of environmental governance. Policies are primarily seen as statements of intent to guide actions in both the short and long term. Institution is used to include organizations and entities that are involved in the process of translating or otherwise modifying policy and regulatory arrangements in the practice of governance. Policies and institutions are closely linked to practices. They determine who is eligible to make decisions, which actions are allowed, which rules will be used, what procedures will be followed, what information must be produced, what payoffs will be assigned to individuals, and how outcomes and processes will be monitored (Ostrom 1991). We cover both formal (statutory) and informal (traditional) institutions in environmental governance. Formal institutions are generally linked to official, governmental, or bureaucratic formalities and are usually legally defined. At the local level, institutions also include those based on social norms and rules that are not formally coded (Leach et al. 1999). They include traditional authorities, indigenous groups (chiefs, clan heads, family heads, and others), and organizations, as defined in local societal norms, values, and beliefs.

Overall, governance processes and practices are conceptualized as multi-scalar phenomena; thus, the assessment presented here covers local, sub-national, national, and regional levels (Fig. 

16.1

). The assessment is based on secondary data and literature review, capturing the latest research while drawing on policy literature, while also drawing on the longstanding research of the lead and contributing authors. The evidence presented is not drawn equally from all countries of the region but is instead based on the availability of published sources. We did not aim for a balanced representation of countries or sectors; rather, we focused on presenting the diversity of situations and trends in environmental governance. We have used case studies as illustrations, not for comparative analysis.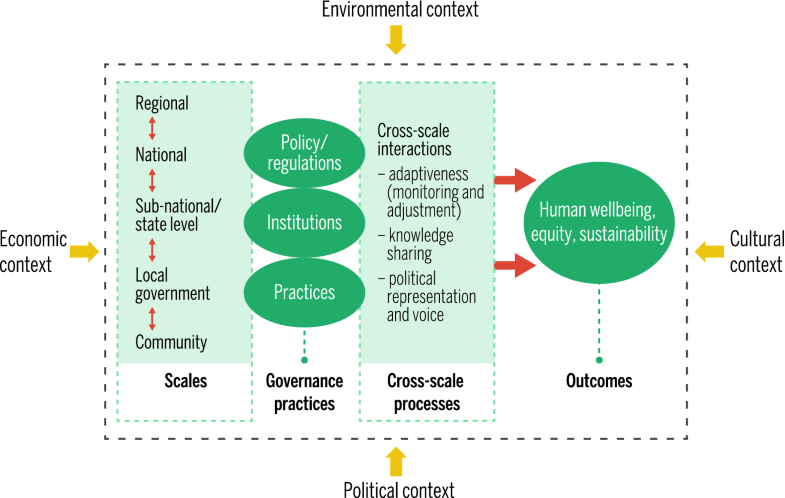 The chapter is organized by scale—national, local, and regional—followed by an analysis of cross-scale interactions and how practices across scales are either linked or remain disjointed. Following this Introduction, the next section focuses on environmental governance at the national and sub-national levels by presenting a broad review of the status of policy and institutions governing natural resources and analyses policy implementation at this level. We indicate how policies, regulations, and institutions are changing over time and highlight important gaps related to the lack of coherence, deficits in implementation, and tendency to ignore evidence in policy-making processes.
Thereafter, we assess local level environmental governance, focusing on community-level institutions and local government. As we demonstrate, decentralized and community-based approaches to environmental management have emerged as a global agenda for advancing sustainable development, and considering this shift in global policy debate, we provide an assessment of this phenomenon in the HKH. We assess the extent and trends of devolution and decentralization of power to communities or local governments, drawing on indicative evidence on the outcomes of this important policy change in terms of livelihood security and ecological sustainability. We show that ambiguous lines of authority, representation, and accountability too often hinder effective decentralization and devolution in practice. We also explore opportunities for the HKH countries to strengthen local governance systems for natural resource management, to empower communities, and to involve local governments and authorities.
This is followed by an assessment of regional-level cooperation in environmental governance in the HKH. We assess the evolving mechanisms and processes through which HKH countries engage in regional cooperation, and then identify their promise and gaps. Highlighting the context of globalization and increasing interconnectedness among the HKH countries, we demonstrate that the prospect for regional environmental cooperation has increased. Lastly, the chapter presents a cross-scalar analysis of governance focusing on knowledge interfaces, vertical interaction, social inclusion, and adaptive governance systems. Here, we explore gaps and opportunities for linking local, national, and regional processes for better vertical cooperation using the lens of polycentric and adaptive governance. We demonstrate that although environmental governance in the HKH is a cross-scalar practice, deliberate attempts to foster cross-scale learning and adaptation are far from adequate. Finally, we summarize the situation of environmental governance and the opportunities presented for improvement.
Overall, the chapter provides a strategic assessment of environmental governance in the HKH and identifies opportunities for improved cross-scalar governance in the context of the growing need for tackling the twin challenges of ongoing climate change and socioeconomic transformation in the region.
16.2

Predominance of National and Sub-national Policies and Institutions

Although there is increasing acknowledgement of the HKH as a region of interconnected transboundary landscapes, governance and policy processes remain primarily at the level of individual countries. Despite being at different levels of economic development and diverse in their political, administrative, and legal setup (Chettri et al.

2008

), all the countries in the region have formulated policies and legal instruments to safeguard the environment and foster sustainable utilization of natural resources (see Table 

16.1

). Environmental governance, in particular, has gained momentum under the increasing authority and role of central governments in policy making and development planning since the 1950s.

1

From that point, and especially after the 1992 United Nations Conference on Environment and Development, countries started formulating policies concerning the environment and sustainable management of natural resources. The region has seen increasing policy reforms to regulate the environment and common pool resources (CPRs), particularly forests, rangelands, and water. Overall, there has been a gradual paradigm shift from a species- and habitat-focused approach to a participatory livelihood-based landscape approach to conservation policies and practices (Sharma et al.

2010

).

Table 16.1

Primary environmental and natural resource policies and laws in the HKH
Countries

Environment (General)

Forest

Rangeland

Water

Afghanistan

National Environmental Protection Agency (NEPA) 2005, Islamic Republic of Afghanistan, Environmental Law 2007

Policy and Strategy for the Forestry and Range Management Sub-sectors 2003

Rangeland Law 2012

Strategic Policy Framework for the Water Sector 2006

Forest Law 2006

Water Law of Afghanistan 2009 (revised from 1991)

Bangladesh

Bangladesh Environment Conservation Act 2010; National Environment Policy 1992, and Bangladesh Environmental Conservation Rules 1997

Forest Act 1927 and Amendment

N.A.

Bangladesh Water Act 2013

Bhutan

National Environment Protection Act 2007

Forest and Nature Conservation Act 1995

Forest and Nature Conservation Act 1995

Water Policy 2008

Biodiversity Act 2003

Land Act of Bhutan 2007

Water Act 2011

Water Regulations 2014

China

Environmental Protection Law 1989, revised 2014, effective 1 January 2015

Forest Law 1998

Rangeland Law 2003

Water Law 1988

India

Environment Protection Act 1986

Forest (Conservation) Act 1980

N.A.

The Water (Prevention and Pollution Control) Act 1974

National Environment Policy 2006

Nepal

Environment Protection Act 1997

Forest Act 1993

Forest Regulations 1995

Rangeland Policy 2012

Water Resources Act 1992

Myanmar

Environmental Conservation Law 2012

Forest Law 1992

Forest Policy 1995

Forest Rules 1995

N.A.

Canal Act 1905

Water Power Act 1927

Groundwater Act 1930

Conservation of Water Resources Law 2006

Pakistan

Environment Protection Act 1997

National Forest Policy 2015

Khyber Pakhtunkhwa Rangeland Policy 2014

Draft National Water Policy 2005

National Environment Policy 2005

National Sanitation Policy 2006

National Drinking Water Policy 2009
16.3

Empowering Local Institutions Through Decentralization and Devolution

In practice, environmental governance in the HKH is a profoundly local phenomenon, involving local communities, local governments, and increasingly local and small-scale business groups. Over the centuries, a variety of community-based natural resource management systems evolved in the region, based on traditional norms and indigenous institutions (Denholm 1991; Gilmour 1990; Farooquee et al. 2004; Sharma et al. 2006; Kreutzmann 2012). In Nepal, Farmer Managed Irrigation Systems (FMIS) are known to exist going back centuries, and these continue to irrigate almost 70% of farmland in the country. (For more details, see Chap.  8.) However, since the 1950s, almost all the HKH countries have seen increased state engagement in policy formulation, enactment, and enforcement of legislation and implementation of state-sponsored programmes (Blaikie and Sadeque 2000). The era of direct state control over environmental resources led to a crisis of environmental degradation in the late 1980s (Ives and Messerli 1989), prompting national governments to adopt policies for participatory management, joint management, and community management, particularly for forest resources (Hobley 1996). Alongside the age-old tradition of community-based environmental management systems, all eight countries in the region have undertaken formal decentralization and devolution reforms, especially after 1990, transferring some power of governance to local communities and elected local governments (Baginski and Blaikie 2007; Pasakhala et al. 2017).

Globally, the move toward devolution and decentralization has been driven by multiple forces, including the loss of legitimacy and/or credibility of the centralized state (Bardhan 2002). This has led to demands for deregulation and an increased role for market players (Mohan 1996), escalating concerns about poverty reduction (Crook 2003), increasing awareness about the need for environmental conservation (Agrawal 2001), and the growing consensus that local stakeholder participation is required to achieve sustainability goals, which implies a need to improve governance through community involvement, engagement, and ownership (Fung and Wright 2001; Ribot 2003, 2007).

In the HKH, governments in collaboration with donors have invested heavily in strengthening local and subnational systems and developing new institutions, often reviving the indigenous institutions. Both customary and formal community management institutions, "facilitated" by state and development agencies, are important elements in the local governance of environmental resources, despite the diverse historical trajectories of environmental governance across the region (Mosse 1997; Agrawal and Gibson 1999; Blaikie 2006). For example, Nepal has a strongly decentralized community forestry system which blends traditional institutions and state-sponsored decentralization reform (Gilmour and Fisher 1991; Ojha 2014). On the other hand, published literature indicates that the efforts of establishing a strong centralized state have not been complemented by sufficient attention to local government at the provincial and district level. As a result, governance at the local level is very complex and confused in Afghanistan. The Indian Himalaya have a local government-centric forest management system which engages local people while retaining control within the government (Hobley 1996; Agrawal and Yadama 1997; Sivaramakrishnan 1999), and the Chinese Himalaya have also seen increasing trends towards decentralization, which is akin to de-concentration (Larson and Ribot 2004). In contrast, in Pakistan, the authority of the forest department has barely been decentralized, despite the adoption of a participatory or joint forest management strategy (Shahbaz et al. 2007).

The degree of decentralization also varies across the resource sectors within a country. For example, in contrast to forest and biodiversity management, the governance of water resources remains predominantly a national and subnational issue in most HKH countries. On the other hand, rangeland (which covers 60% of the entire HKH) is primarily under community management even when formal rights are retained by the government (Sharma et al. 2007). While these examples suggest a common trend in transferring power from higher to lower levels of governance, there is no coherent body of evidence from the region to suggest that decentralization always has a positive outcome for people and the environment (Jütting et al. 2004). Rather, the impact varies in line with the geographic and political diversity in and within the individual countries.

Many of the decentralization and devolution policies are sponsored by aid agencies. International support has been crucial in providing resources for decentralization projects and, in particular, in promoting mechanisms to enhance gender equality and social inclusion. Nevertheless, donor influence in decentralized governance has not always produced sustainable change and innovation (Guthman 1997; Sarin 2001, cited in Sarkar 2008; Rangan 1996; Nautiyal 2011). In Bangladesh, the imposition of a generic co-management "model" has caused local-level problems in negotiating popular acceptance of the programme and long-term institutional sustainability. In Pakistan, decentralization and collaborative governance agendas are driven by international agencies and the national administration, causing tensions with more local-level forest departments in the north of the country (Ali and Nyborg 2010).

Furthermore, the effectiveness of local institutions is shaped by external factors (Ojha et al. 2016a). For example, van panchayats in Uttarakhand in India are facing tremendous demographic and economic pressure, which is undermining the effectiveness of these institutions (Sarkar 2008). On the other hand, it is yet to be ascertained if the Biodiversity Management Committees (BMC) in the state have as much acceptability among communities as van panchayats or gram panchayats that have statutory mandate similar to BMC. The increasing professionalization of resource governance is leading to further democratic deficits. Policies become stronger in terms of technical considerations but lack the flexibility required for successful implementation in real life situations. Consequently, stakeholders often find themselves in a situation where state policies do not address their interests, leading to increased conflicts over the proper governance of local-level resources (Nightingale 2005). Therefore, community-based natural resource management is not only about community-level decision makers; it also requires inputs from government actors and agencies, and sometimes the involvement of market actors where forest products can be exchanged for cash (Agrawal and Verma 2017).
16.4

Regional Cooperation Is Key for Environmental Governance in the HKH

Regional or transnational cooperation has emerged as a key form of global environmental governance, as opportunities for international cooperation and transboundary environmental management expand rapidly. Although the Himalaya is probably one of the most politically complex and ecologically fragile regions in the world (Ives 2012), it is also an example of the potential for provision of a range of environmental systems and services (Grumbine and Pandit 2013; Blaikie and Muldavin 2004). With the rise of the Chinese and Indian economies—located to the north and south of the mountain chain—the region has also become a geopolitical and political economic centre of global importance (Wirsing 2013; Zhang 2016), simultaneously posing both ecological and political opportunities and challenges (Goldstein et al. 2006). The increasing level of upstream-downstream interrelationships, such as those pertaining to transboundary water systems, also demands greater international cooperation in the region. As a result, achieving sustainable natural resource management in the HKH will require a reasonable degree of cooperation among national governments and communities across borders (Karki and Gurung 2012), as well as large-scale investments for prosperity in the future (Chap.  4). The need for regional collaboration is most vividly demonstrated by the case of water management.

Water "ignores political boundaries, fluctuates in both space and time, and has multiple and conflicting demands on its use", and its international law is poorly developed, contradictory, and unenforceable (Wolf and Hamner

2000

: 123). With ten river systems flowing across the boundaries of the HKH, bilateral and multilateral treaties and agreements for the allocation and distribution of water will be indispensable in governing the ecosystems at a regional scale. Several such agreements have been signed over the past five decades (Table 

16.2

). Some bilateral programmes (for example, the Koshi River Watershed Management Programme between Nepal and India) have been implemented since the 1980s and 1990s with the aim of regulating the water supply and minimizing flooding. Afghanistan and Pakistan are in the process of reaching a similar water-sharing agreement for the Kunar River in the Kabul Basin (Vick

2014

). Others, such as the Koshi River Agreement, the Gandak River Water Sharing Agreement, and the Mahakali River Agreement between Nepal and India (Uprety and Salman

2011

), the Ganges Water Treaty between India and Bangladesh (Brichieri-Colombi and Bradnock

2003

), and the Indus River Water Treaty between India and Pakistan (Sahni

2006

) aim primarily at ensuring the generation and sharing of power, and are often considered to lack fair, comprehensive, and equitable arrangements for resource use and allocation (Mustafa

2010

; Uprety and Salman

2011

; Butler

2016

). Formal cooperation between China and India on transboundary water management remains limited (Rahaman and Varis

2009

).

Table 16.2

Transboundary rivers in the HKH and related water treaties
Transboundary river

(Riparian countries)

Treaties, agreements, and institutions

Nature of water sharing and use as per treaty

Outcomes

Mahakali [1]

(Nepal and India)

1996 Treaty of Mahakali

Guided by principles of equality, mutual benefit, and no harm to either party; equal number of representatives from both parties; equal partnership to define obligations and corresponding rights and duties regarding water use, water distribution, hydroelectricity, irrigation, and flood control

Arbitration tribunal dedicated to resolving differences arising under the Treaty; equal representation of national arbitrators with a third neutral arbitrator presiding over the tribunal (as written in Treaty agreement); provision for planning, surveying, development, and operation of any work on the tributaries of the Mahakali river to be carried out independently by either party in its own territory

Mahakali River Commission

Koshi [2]

(Nepal and India)

The 1954 Agreement on the Koshi Project (revised in 1996)

Flood control; irrigation; generation of hydroelectricity and prevention of erosion in Nepal areas on the right side of the river, upstream of the barrage; surveys and investigations necessary for proper design, construction, and maintenance of the barrage and connected works; navigation and fishing rights reserved by Nepal

Disputes or differences resolved through arbitration in which arbitrators are nominated from each side within 90 days of delivery of notice of dispute arising from either party, and the arbitrators' decision is binding; if the arbitrators disagree, both parties appoint an umpire whose decision is final and binding

Indo-Nepal Koshi Project Commission acting as the coordination committee for the Koshi Project

Gandaki [3]

(Nepal and India)

Gandak River Treaty of 1959 followed by the Agreement of Gandak Irrigation and Power Project 1975

Irrigation and hydropower development in both countries; investigation and surveys; communication

No assessments yet

Teesta and other water resources [4]

(Bangladesh and India)

Indo-Bangladesh Treaty of Friendship, Cooperation, and Peace; 25-year treaty signed in 1972; also known as Indira-Mujib Treaty

JRC addresses issues related to sharing water of common rivers; transmission of flood-related data from India to Bangladesh; construction and repair of embankment and bank protection work along common/border rivers

The Indo-Bangladesh Treaty of 1972 was not renewed in 1997, as both riparian countries declined renegotiation; India's role was seen as excessively imposing and Bangladesh's share was deemed unequal; disputes over water resources at Farakka Barrage, and India's perceived delay in withdrawing troops added to the contention; other political externalities

The Joint Rivers Commission (JRC) of 1972 established by the Government of Bangladesh, Ministry of Water Resources

Ganga-Brahmaputra-Meghna [5]

(Bhutan and India)

Chukka Project of circa 1980, based solely on generating hydropower from the Wanchu Cascade at Chukka

No assessments yet

Project deemed highly successful; covered its cost by 1993 and increased capacity to 370 MW; provided impetus for Bhutan's industrialization and commercial development; Bhutan moved from country with the lowest per capita income in South Asia during the 1960s to the highest in the Ganga-Brahmaputra-Meghna region (includes Bangladesh, Bhutan, India, Nepal, and Pakistan), with foreseeable stipulated earnings of more than USD100 million per annum with similar hydropower projects Kuri Chu, Chukka II, and Chukka III by 2015

Brahmaputra/Yalu Zangbu [6]

(China and India)

MOU on hydrological data sharing on the Brahmaputra/Yalu Zangbu River signed in 2001, renewed in 2008 and 2013

Data and information sharing on water level, discharge, and rainfall every year

No assessments yet

Sutlej/Langquin Zangbu [7]

(China and India)

No treaty as such; China agreed to provide hydrological information

Information for flood control, data sharing, and transmission

No assessments yet

Indo-China river-basins [8]

(China and India)

Expert-level mechanism formed in 2006 in which expert group, made up of representatives from both sides, discusses interaction and cooperation on provision of flood season hydrological data, emergency management, and other issues on an annual basis

Data sharing for flood control, emergency management, and other issues

No assessments yet

Indus [9]

(India and Pakistan; Afghanistan and China are upper riparian but not members)

Indus Treaty of 1960

Pakistan claimed historical rights and "equitable apportionment" and India claimed prior use and preservation of status quo

Disputes over how water will be utilized and allocated were later resolved through the World Bank's involvement as a mediator and arbitrator financier of the partition projects, which meant that the final treaty was planned and formulated by the Bank; involvement of only a few riparian countries may have led to a less effective alliance; only treaty of its kind to arise post-partition in the Indian subcontinent; the partition of the Indus happened after attempts at basin-wide development and planning failed; the treaty is still considered a sub-optimal solution to the management of the Indus

Mekong [10]

(Thailand, Laos, Viet Nam, Cambodia, China, Myanmar)

The Mekong Committee (MC) established in 1957; in 1995 the Mekong River Commission (MRC) was developed

Hydropower, flood control, fishing, irrigation, navigation, and water supply

Dam building a threat to lower riparian countries; growing conflict between upper and lower riparian; legal and political differences and complexities in implementation; involvement of only a few riparian countries led to a less effective alliance

Data collection; coordination; training programmes; planning studies; management of water for developmental uses; ministerial-level reach in the Commission for political influence
16.5

The Need for Strengthening Cross-Scalar Interfaces and Adaptive Governance

With greater recognition of the HKH's complex geographical and political environment, diverse social systems, and upstream–downstream interconnectedness, attention should be paid to strengthening linkages among institutions across scales, building an effective interface among the various knowledge-based systems (Weiss et al. 2012), and creating new bridging institutions for transformative governance (Huitema et al. 2009). Given the wider concerns about environmental resilience and social equity outcomes, there is a growing consensus in the scientific community, which manifests in the environmental governance literature, on two processes identified as crucial. First is the need to embrace an adaptive approach to environmental governance (Cooper and Wheeler 2015), and second is the need to ensure an inclusive participatory process in decision making and benefit sharing (Blaikie and Sadeque 2000; Saravanan 2009; Ojha and Hall 2013). These requirements indicate the desirability of a multi-level governance approach, as this approach underscores four underlying principles of adaptive governance: management on a bioregional scale, polycentric governance, public participation, and experimentation (Huitema et al. 2009). To support these processes, a complex combination is required of "openness of practices, active involvement of key actors, strong but inclusive leadership, and a knowledge-based hybrid multi-level network combining horizontal and vertical network governance" (Naustdalslid 2015: 913).

Scholarly research on multi-scalar governance in the context of the developing world found it "too underdeveloped to make any serious evaluation" (Stephenson 2013: 830). Research in global governance supports the idea that centralized governments must give way to co-management that opens up different levels of control and governance (Pahl-Wostl et al. 2008) and helps tackle issues related to uncertainties and the persistent lack of communication among environmental stakeholders (Weiss et al. 2012). Furthermore, the interactions between policy-making arrangements (Piattoni 2015) and institutions at multiple levels and scales are continuously shaping both development and governance outcomes (Cash et al. 2006). This means that achieving more politically and ecologically sustainable solutions to problems requires addressing scale issues and creating dynamic linkages across levels (Cash et al. 2006; Piattoni 2015). Multi-level governance involves vital linkages connecting mutually dependent governance levels with cross-scalar processes of policy making, planning, and implementation activities (Stephenson 2013), and is also seen as a form of polycentric governance involving co-management (Andersson and Ostrom 2008). Such framing of governance helps to understand how, where, and for whom governance decisions affecting sustainable development are made (Wilbanks 2007) and how they can be improved.

Below, we examine the key aspects of current multilevel and cross-scalar governance, both worldwide and in the HKH, and further explore why multilevel governance is crucial for the region.
16.6

Opportunities for Improving Environmental Governance in the HKH

This chapter has provided an assessment of environmental governance in the Hindu-Kush Himalaya, encompassing processes at local, national, and regional scales. It shows that the governance of environmental resources in the region involves a complex ensemble of state policy frameworks, policy making and implementing organizations, knowledge communities, traditional institutions, and the private sector. The field of environmental governance entails pluralistic and highly dispersed authorities at local, subnational, national, regional, and global levels. The distribution of governing power across various levels of governance is unbalanced and often incompatible with the sustainable management of natural resources. Environmental institutions have yet to fully recognize the complex Himalayan geography, which is characterized by the lack of appropriate, context-specific institutions to link upstream and downstream communities in river basins.

National environmental policies and institutions in the region are complex and still evolving. Governance reforms include the adoption of new environmental concerns such as climate change, disaster risks, and biodiversity; decentralization and devolution; and new shifts to adopt market mechanisms in resource governance. While policy visions and frameworks for improved environmental governance have emerged in response to the change in contexts, there is a lack of effective implementation. This is because developing new policy visions is not concurrently linked to a process of institutional reform. The link between policy and practice is poor, and many of the lessons learned from the field—as well as evidence from research—goes unused in national policy processes.

A variety of decentralization initiatives have emerged with significantly positive outcomes in different localities, yet these are not adequately supported or institutionalized in the national and subnational systems of governance. Regional cooperation on environmental issues remains limited, and there is an urgent need for the HKH countries to engage more meaningfully in devising frameworks for fair cooperation, as countries have intimate upstream and downstream linkages, complementary expertise and experiences, and differing levels of national capability and negotiating power. The future of regional governance of natural resource management depends to a large extent on how innovative institutional arrangements emerge in the region to facilitate intergovernmental dialogue, common policy initiatives, and collaborative trans-border community practices, beyond the dichotomy of cooperation and conflict which has existed in varied forms of transboundary management of natural resources.

Given the rich experiences and policy experiments in diverse sub-regions and localities in the HKH, there is an important need to strengthen the cross-scalar knowledge interface and inclusive governance processes—both within and between the nation-states—to ensure fair and adaptive governance in the face of the growing risks related to climate change and disaster in the Himalaya.

The findings show that there are at least four opportunities for improving environmental governance in the region: (1) strengthening the interface between science, policy, and practice; (2) strengthening the institutional capacity to implement new policies; (3) scaling up community-based environmental management systems by creating more enabling regulatory frameworks and appropriate local institutional arrangements; and (4) strengthening transboundary cooperation among the HKH countries.
Footnotes
1.

The first national Five-Year-Plans (FYPs) were implemented by India from 1951 to1956, China from 1953 to 1957, Pakistan from 1955 to 1960, Afghanistan and Nepal from 1956 to 1961, Bhutan from 1961 to 1966, Bangladesh from 1973 to 1978, and Myanmar from 2011/12 to 2015/16.
Copyright information
© ICIMOD, The Editor(s) (if applicable) and The Author(s) 2019
Open Access This chapter is licensed under the terms of the Creative Commons Attribution 4.0 International License (http://creativecommons.org/licenses/by/4.0/), which permits use, sharing, adaptation, distribution and reproduction in any medium or format, as long as you give appropriate credit to the original author(s) and the source, provide a link to the Creative Commons license and indicate if changes were made.
The images or other third party material in this chapter are included in the chapter's Creative Commons license, unless indicated otherwise in a credit line to the material. If material is not included in the chapter's Creative Commons license and your intended use is not permitted by statutory regulation or exceeds the permitted use, you will need to obtain permission directly from the copyright holder.