Protein Conditioning for Binding Congo Red and Other Supramolecular Ligands
Abstract
Self-assembled organic compounds which form ribbon-like micellar clusters may attach themselves to proteins, penetrating in areas of low stability. Such complexation involves regions other than the protein's natural binding site. The supramolecular ligand adheres to beta folds or random coils which become susceptible to complexation as a result of function-related structural changes – e.g. antibodies engaged in immune complexes or acute phase proteins. However, even seemingly unsusceptible helical proteins may bind Congo red if they include chameleon sequences (short peptide fragments capable of adopting different secondary conformations depending on environmental conditions). Examples of such proteins include hemoglobin and albumin. Complexation of supramolecular Congo red is often associated with increased fluorescence, indicating breakdown of ligand micelles in the complex. This phenomenon may be used in diagnostic tests.
Keywords
Congo red binding to haemoglobin 
Acute phase 
Congo red binding to albumin 
Fluorescence of Congo red 
Cell-cell interaction and Congo red binding 
Proteins susceptibility for protein complexation 
Chameleon sequences and Congo red binding 
3.1

Natural Susceptibility of Proteins to Bind Congo Red

As remarked in Chaps.  1 and  2, supramolecular micellar systems may form complexes with proteins by penetrating in areas other than the active site. This process is conditioned by local instabilities in the protein structure [1, 2].

As a rule not all parts of a protein molecule are equally stable. Local instabilities are usually not significant enough to enable direct penetration of a large ligand consisting of many associated molecules. Such instabilities can, however, be artificially exacerbated, e.g. through heating [

3

]. Under natural conditions Congo red (CR ) is spontaneously bound by partly unfolded proteins capable of forming aggregations – such as amyloids and some abnormal [

4

,

5

,

6

,

7

,

8

,

9

]. While aberrant (unstable) proteins are usually eliminated before they can leave their parent cell [

10

,

11

,

12

,

13

], under certain circumstances – such as mass synthesis of light chains associated with multiple myeloma – they can be detected in circulation (Fig.

3.1

) [

14

,

15

,

16

,

17

,

18

,

19

].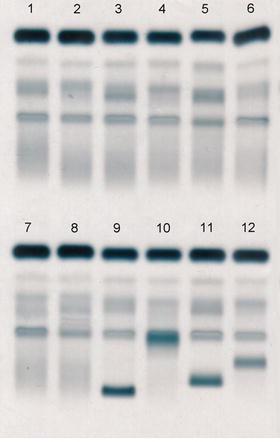 On the other hand, proteins destabilized partly through complexation of their "intended" natural ligands are commonly found in bodily fluids, especially in blood serum. Such proteins usually acquire the ability to bind CR . Examples include acute-phase proteins, conditioned to capture and eliminate other proteins whose presence in the bloodstream is harmful – e.g. proteolytic enzymes (which – due to their specific mechanism of action – may penetrate from the digestive tract or be released by necrotic cells), as well as hemoglobin, which has undesirable catalytic properties and should not be present in the bloodstream in its unbound form. These acute phase complexes are similar to antibody /ligand complexes – by binding its natural ligand the protein undergoes structural deformations which facilitate penetration of an additional supramolecular ligand [20]. Acute phase complexes are short-lived, since they are recognized and removed by liver enzymes and phagocytes. Nevertheless, as long as the underlying cause persists, the blood serum will always contain proteins capable of association with CR . The specific composition of acute phase proteins present depend on the ongoing pathological processes. Acute phase proteins include serpins, haptoglobin, ceruloplasmin, ferritin, complement factors C3 and C4, as well as albumin, prealbumin and transferrin [21] (although note that in the last three cases pathological processes do not increase the concentration of the corresponding protein, but decrease it instead).
The ability of CR to bind to serum proteins is readily evidenced by agarose gel electrophoresis where the supramolecular ligand is added to the column at a certain stage of the process, accelerating migration of the affected proteins. Figure
3.2
presents a typical scenario where serum proteins are subjected to two-stage electrophoresis on agarose gel, with the second stage carried out in a perpendicular direction to the first, in the presence of CR (red band in Fig.
3.2D
) [
3
,
21
].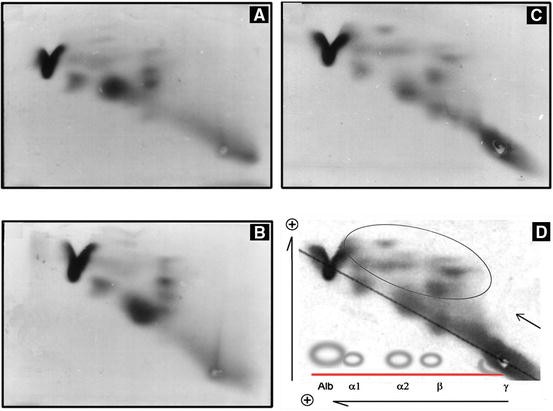 The dye quickly migrates towards the anode and bypasses most proteins, except those structurally conditioned to bind the dye. As a result, migration of the affected proteins is accelerated and those proteins are found above the diagonal line which collects non bonding proteins. The mobility imparted by CR upon the target protein depends on the number of associated dye molecules and the molecular weight of the protein itself – hence the variable results observed under electrophoresis. The presented technique could have important diagnostic applications; here, however, our goal is merely to present the interaction of CR with serum proteins in order to explain the mechanism of supramolecular complexation. Regarding acute phase proteins, CR complexation is particularly evident in the case of proteins which always exhibit some form of activity, but whose activity in pathological conditions is significantly increased and/or altered.
Some proteins can bind supramolecular ligands even in the absence of a complexation partner which would account for structural rearrangement and reduction in stability. This includes albumin. Owing to its function, albumin is capable of binding various anionic compounds, of which the dye is an example. CR is furthermore capable of associating with amyloidogenic apolipoproteins [22, 23, 24, 25, 26].
3.2

Interaction of Congo Red with Helical Structures of Polypeptides

Probable complexation loci in hemoglobin subunits have been identified by locating structurally unstable alpha folds, which also exhibit measurable propensity towards adopting beta or random coil conformations. Such folds may favor penetration of the supramolecular ligand, altering their own conformation in the process and producing finally stable bond. Comparative analysis has been performed by querying a database of chameleon sequences (i.e. sequences which may adopt either alpha or beta conformations, depending on local conditions) [32]. For each tetrapeptide, the database lists the corresponding probabilities of encountering alpha, beta and random coil conformations in actual proteins – this enables identification of fragments of the hemoglobin chain which may potentially transit to beta folds or random coil.

While chameleon sequences are found in both subunits of the hemoglobin chain, their placement in the alpha subunit appears to be more favorable for binding CR  – they are located close to one another and provide a convenient pocket with beta or random folds found on either side of the ligand. Experimental evidence suggests that CR penetrates the protein as a supramolecular ligand, wedging itself between parallel folds as long as such folds are not tightly packed and may be induced to adopt beta or random coil conformations. In contrast, helical folds do not support complexation of CR due to steric clashes. Regarding the alpha subunit, chameleon fragments are found in areas referred to as the G, H and FG helices, all located in close proximity of the heme. Structural rearrangement caused by complexation of CR therefore causes dissociation of the protein.

Having induced structural changes in the protein, CR forms a complex with the newly produced beta fold or random coil, stabilizing the change. The dye penetration limit is determined by mutual alignment between the protein's secondary folds and the dye micelle. An important factor facilitating penetration is the cohesiveness of the ligand itself, which – unlike the polypeptide – is not a polymer but rather an associate, stabilized by noncovalent interactions [33, 34, 35].

Albumin is a typical helical protein with a particularly vital role in blood serum. The importance of albumin is underscored by its natural concentrations and deep involvement in energy management processes. Albumin represents a source of amino acids in cases of malnutrition, but it also serves as a carrier of fatty acids. It is further capable of binding and transporting a variety of dyes and drugs [27]. Its complexation affinity for supramolecular CR and EB [26] makes it a useful study subject. Clearly, albumin may play a role in immunotargeting, since it is capable of forming complexes with supramolecular ligands doped with therapeutic agents.

Additional insight into the specifics of CR and EB complexation with albumin is provided by spectro-polarimetric analysis. The complex with EB is strongly chiral, while the corresponding complex with CR does not exhibit chirality [26]. This suggests that EB favors cis binding, while CR binds in a trans (alternating) alignment. The effect can be explained by referring to the structure of both dyes. In EB , all sulfonic groups are adjacent and bound to aromatic rings at either end of the molecule and therefore aligned with its long axis. This results in mutual modification of the dissociation constant and focuses electrostatic interactions on the polar regions. Consequently, rotation of the molecule about its long axis does not yield any benefits for self-association and can be considered irrelevant. Cis binding is likely related to the properties of other binding-capable substituents: the −OH and −NH2 groups. In contrast, in CR the location of sulfonic groups clearly favors trans binding, i.e. alternating alignment of symmetrical halves (Fig. 3.10).
3.3

Fluorescence Property of Congo Red

As already discussed, supramolecular CR attaches itself to beta folds or random coils. This process is promoted by instabilities in the protein molecule, and, additionally, the complexation capabilities of the dye increase along with its concentration. By binding a supramolecular ligand, the protein adapts its tertiary conformation to the micelle; however most of the structural rearrangements which enable binding occur in the dye itself, and are facilitated by the noncovalent interactions between individual dye molecules.
Notes
Acknowledgements
We acknowledge the financial support from the National Science Centre, Poland (grant no. 2016/21/D/NZ1/02763) and from the project Interdisciplinary PhD Studies "Molecular sciences for medicine" (co-financed by the European Social Fund within the Human Capital Operational Programme) and Ministry of Science and Higher Education (grant no. K/DSC/001370).
Copyright information
© The Author(s) 2018
Open Access This chapter is distributed under the terms of the Creative Commons Attribution 4.0 International License (http://creativecommons.org/licenses/by/4.0/), which permits use, duplication, adaptation, distribution and reproduction in any medium or format, as long as you give appropriate credit to the original author(s) and the source, provide a link to the Creative Commons license and indicate if changes were made. The images or other third party material in this book are included in the work's Creative Commons license, unless indicated otherwise in the credit line; if such material is not included in the work's Creative Commons license and the respective action is not permitted by statutory regulation, users will need to obtain permission from the license holder to duplicate, adapt or reproduce the material.