Nanotechnology for Therapeutics
Abstract
Tremendous growth in the field of pharmacology and therapeutics has been observed due to revolutionised development of novel drug delivery systems predominantly based on "Nanotechnology". Treatment of wide varieties of diseases is made possible by miniaturisation of drug delivery systems. Nanotechnology delivers a unique approach, which promises higher drug efficacy, targeted drug delivery, on demand delivery, biocompatibility, etc. The importance of nanotechnology can be visualised by its ability of addressing several problems in central areas of biomedical, chemical, mechanical and electronics. Here, we discuss how nano-therapeutics can be fruitful for the treatment of brain diseases such as human immunodeficiency virus (HIV), Parkinson's, cancer, Alzheimer and their drug delivery mechanism. In this regard, the challenges involved and required future developments in drug delivery systems becomes few important topics to be worked on for expanding the utilization of nano-therapeutics.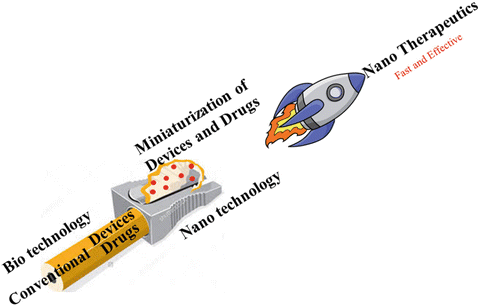 The transition of conventional theruputics to highly effective nanotherapeutics
Graphical Abstract
Keywords
Nanotechnology 
Nano neurotherapeutics 
Nanodevices 
Nanobots 
Drug deliveery systems 
Notes
Acknowledgements
The authors appreciate the financial support received from the Council of Scientific and Industrial research (CSIR), New Delhi, India for this work. I am also thankful for the financial support given by Department of Chemistry, School of Basic and Applied Sciences, Galgotias University, Gautam Buddh Nagar, Uttar Pradesh, India. Dr. Anujit Ghosal also expresses his sincere gratitude to the Government of India, Science and Engineering Research Board (SERB) (NPDF/2016/003866).
Copyright information
© Springer International Publishing AG 2017