Abstract
The mechanical properties of the reduced number of atoms forming the apex of a tip are interesting both from a fundamental point of view and for the interpretation of experiments related to scanning local probe methods. These mechanical properties can be studied by establishing a very small contact, a nanocontact, between a tip and a surface. The elasticity and fracture events during the controlled breaking of a nanocontact as the tip is separated from the surface provide information about the mechanical properties of the tip apex. In the case of metallic tips, electron transport through the nanocontact also provides information on its mechanical properties, because at the scale of a few atoms forming the nanocontact the mechanical and electron transport properties are strongly related.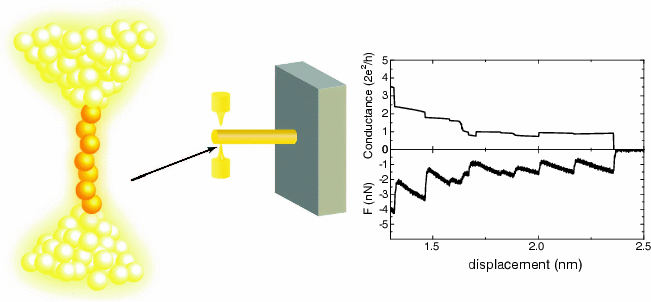 Keywords
Scan Tunneling Microscope 
Force Sensor 
Tuning Fork 
Atomic Chain 
Force Gradient 
These keywords were added by machine and not by the authors. This process is experimental and the keywords may be updated as the learning algorithm improves.
Abbreviations
AFM

Atomic force microscope

DFT

Density functional theory

DOS

Density of states

MCBJ

Mechanically controlled break-junction

MD

Molecular dynamics

MFM

Magnetic force microscopy

PC

Point contact

PCS

Point contact spectroscopy

SNOM

Scanning near-field optical microscopy

SPM

Scanning probe microscopy

STM

Scanning tunneling microscope

TF

Tuning fork

UHV

Ultra high vacuum
Notes
Acknowledgments
We would like to acknowledge fruitful discussions with C. Untiedt, R.H.M. Smit and P. Joyez. This work was partially supported by MINECO (MAT2011-25046) and by Comunidad de Madrid (Spain) through program Citecnomik (S-0505/ESP/0337).
Copyright information
© Springer International Publishing Switzerland 2015