Abstract

Following the creation of a ground-breaking online language course in 2015, this chapter explores how digital media and the emergence of the first natively digital generations of Esperanto speakers have triggered changes in this speech community. The use of online communication technologies has brought about fast-paced exchanges, a reconsideration of Esperanto's language ideology through the lens of open-source and the possibility of complementing verbal communication with emojis, gifs and Internet memes. I argue that, while digital media open up new forms of language use, it also prompts significant changes in people's experience of time and community. Beginning with what is left unsaid when communication largely moves from face-to-face to online settings, I explore the implications of such a shift for the shape of a speech community.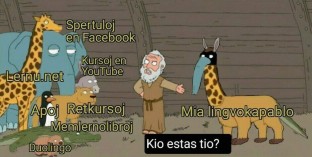 Notes
1.

The figure refers to people who registered to learn Esperanto, since Duolingo does not disclose data on how many users effectively complete its courses.

2.

Here I follow Boellstorff's (2008: 20–21) distinction between 'virtual' and 'actual' worlds. Such choice of terminology avoids the trap of considering the 'virtual' as opposed to the 'real' world, which, in turn, would imply that technology makes 'real' life less real.

3.

Such as in the case of 'software' and 'drone', as discussed in Chapter 5.

4.

One of JEFO's most traditional undertakings was the organisation of FESTO, a week-long Esperanto festival taking place annually since 1996. FESTO was, however, discontinued after 2014 due to a shortage of volunteers to organise it.

5.

In 2016, the age limit for membership at TEJO was also increased from 30 to 35 years old. This was aimed at expanding the association's membership and ensuring that some active members could remain for longer.

6.

TEJO proved to be an exception in this regard. Through feeding active social media profiles, encouraging young Esperantists to participate in YouTube videos about student life, offering free magazine samples to those who finish Duolingo's skill tree and organising online meetings, TEJO succeeded in converting a number of online learners into members.

7.

In this regard, it is interesting to note the strategy that Esperantists developed to bypass the hesitancy of saying 'good morning', 'good afternoon' or 'good evening' in online communication, particularly in spoken chats. For not knowing in which time zone their interlocutors are, Esperantists frequently greet each other saying 'bonan tageron', meaning 'good fragment of the day'.

8.

As explained before, the printed database of Pasporta Servo also became available online in 2008. However, Pasporta Servo's interface was meant to be accessed through the computer's Internet browser and, for this reason, it is not as user-friendly for mobile phone users as Amikumu's.
References
Amikumu. 2021. Statistics. Available online at: https://amikumu.com/statistics/. Accessed 5 January 2021.

Ariès, Philippe. 1962. Centuries of Childhood: Social History of Family Life. New York: Alfred A. Knopf.

Ben-Amos, Ilana Krausman. 1995. Adolescence as a Cultural Invention: Philippe Ariès and the Sociology of Youth. History of the Human Sciences 8 (2): 69–89.

Bennett, Andy. 2015. "Speaking of Youth Culture": A Critical Analysis of Contemporary Youth Cultural Practice. In Youth Cultures, Transitions, and Generations: Bridging the Gap in Youth Research, ed. Dan Woodman and Andy Bennett. New York: Palgrave Macmillan.

Boellstorff, Tom. 2008. Coming of Age in Second Life: An Anthropologist Explores the Virtually Human. Princeton and Oxford: Princeton University Press.

Boyer, Dominic. 2003. Censorship as a Vocation. The Institutions, Practices, and Cultural Logic of Media Control in the German Democratic Republic. Comparative Studies in Society and History 45 (3): 511–545. https://doi.org/10.1017/S0010417503000240.

Candea, Matei. 2019. Du taire au faire taire: La censure à l'épreuve de la comparaison. Terrain 72: 4–23. https://doi.org/10.4000/terrain.18745.

Coleman, E. Gabriella. 2013. Coding Freedom: The Ethics and Aesthetics of Hacking. Princeton and Oxford: Princeton University Press.

Crystal, David. 2008. Txtng: The Gr8 Db8. Oxford: Oxford University Press.

Fettes, Mark. 2018. Festparolado de la Prezidanto de UEA, D-ro Mark Fettes. Taĵo Nia: Kongresa Kuriero de la 103a Universala Kongreso de Esperanto 4: 1–3.

Fians, Guilherme. 2017. TEJO, Um Maduro Movimento da Juventude. In O Esperanto Além da Língua, ed. Fernando Pita and Guilherme Fians. Porto Velho: Temática Editora.

Gobbo, Federico. 2021. Coolification and Language Vitality: The Case of Esperanto. Languages 6 (2)(93), 1–10. https://doi.org/10.3390/languages6020093.

Hardman, Charlotte. 2001. Can There Be an Anthropology of Children? Childhood 8 (4): 501–517. https://doi.org/10.1177/0907568201008004006.

Horst, Heather, and Daniel Miller. 2006. The Cell Phone: An Anthropology of Communication. Oxford and New York: Berg.

Huotari, Kai, and Juho Hamari. 2012. Defining Gamification: A Service Marketing Perspective. In MindTrek '12: Proceeding of the 16th International Academic MindTrek Conference: Envisioning Future Media Environments, ed. Artur Lugmayr, Heljä Franssila, Janne Paavilainen, and Hannu Kärkkäinen. New York: The Association for Computing Machinery, Inc.

JEFO. 2000. Statuts d'Espéranto-Jeunes (JEFO). Available online at: https://esperanto-jeunes.org/fr/francais-statuts/. Accessed 5 January 2021.

Kelty, Christopher. 2008. Two Bits: The Cultural Significance of Free Software. Durham and London: Duke University Press.

Kruit, W.F. 1946. Pri 'K'. Sennaciulo: Organo de Sennacieca Asocio Tutmonda 17 (10, October): 3.

Kulick, Don. 1992. Language Shift and Cultural Reproduction: Socialization, Self, and Syncretism in a Papua New Guinean Village. Cambridge: Cambridge University Press.

Kulick, Don. 2019. A Death in the Rainforest: How a Language and a Way of Life Came to an End in Papua New Guinea. Chapel Hill: Algonquin Books.

Lins, Ulrich. 1974. Tutmonda Esperantista Junulara Organizo. In Esperanto en Perspektivo: Faktoj kaj Analizoj pri la Internacia Lingvo, ed. Ivo Lapenna, Ulrich Lins, and Tazio Carlevaro. London and Rotterdam: Universala Esperanto-Asocio/Centro de Esploro kaj Dokumentado pri la Monda Lingvo-Problemo.

Maeckelbergh, Marianne. 2011. Doing Is Believing: Prefiguration as Strategic Practice in the Alterglobalization Movement. Social Movement Studies 10 (1): 1–20. https://doi.org/10.1080/14742837.2011.545223.

Miller, Daniel. 2009. Stuff. Cambridge: Polity Press.

Miller, Daniel, and Heather Horst. 2012. The Digital and the Human: A Prospectus for Digital Anthropology. In Digital Anthropology, ed. Heather Horst and Daniel Miller, 3–35. London and New York: Berg.

Nielsen, Robert. 2020. Kie estas la Duolinganoj? Libera Folio, 31 March. Available online at: https://www.liberafolio.org/2020/03/31/kie-estas-la-duolinganoj/. Accessed 4 December 2020.

Pilcher, Jane. 1994. Mannheim's Sociology of Generations: An Undervalued Legacy. British Journal of Sociology 45 (3): 481–495. https://doi.org/10.2307/591659.

Piron, Claude. 1989. A Few Notes on the Evolution of Esperanto. In Interlinguistics. Trends in Linguistics—Studies and Monographs 42, ed. Klaus Schubert. Berlin and New York: De Gruyter.

Prensky, Marc. 2001. Digital Natives, Digital Immigrants. On the Horizon 9 (5): 1–6. https://doi.org/10.1108/10748120110424816.

Qvortrup, Jens. 2009. Childhood as a Structural Form. In The Palgrave Handbook of Childhood Studies, ed. Jens Qvortrup, William A. Corsaro, and Michael-Sebastian Honig. Basingstoke: Palgrave Macmillan.

Rašić, Nikola. 1994. La Rondo Familia: Sociologiaj Esploroj en Esperantio. Pisa: Edistudio.

Ringel, Felix. 2012. Towards Anarchist Futures? Creative Presentism, Vanguard Practices and Anthropological Hopes. Critique of Anthropology 32 (2): 173–188. https://doi.org/10.1177%2F0308275X12437979.

Ringel, Felix. 2018. Back to the Postindustrial Future: An Ethnography of Germany's Fastest-Shrinking City. New York and Oxford: Berghahn Books.

Rogers, Richard. 2013. Digital Methods. Cambridge, MA: The MIT Press.

Sarmento, Manuel Jacinto. 2005. Gerações e alteridade: Interrogações a partir da Sociologia da Infância. Educação e Sociedade 26 (91): 361–378. https://doi.org/10.1590/S0101-73302005000200003.

Turkle, Sherry. 1995. Life on the Screen: Identity in the Age of the Internet. New York: Simon and Schuster.

Valle, Fabrício, and José Vergara. 2015. Chuck Smith: Motoro de la interreta E-generacio. Esperanto: Oficiala organo de Universala Esperanto-Asocio 108 (1297, December): 241, 246–247.

Wajcman, Judy. 2015. Pressed for Time: The Acceleration of Life in Digital Capitalism. Chicago and London: University of Chicago Press.
Copyright information

© 2021 The Editor(s) (if applicable) and The Author(s), under exclusive licence to Springer Nature Switzerland AG
About this chapter
Cite this chapter
Fians, G. (2021). Mobile Youth: How Digital Media Changed Language Learning, Activism for Free Speech and the Very Experience of Time. In: Esperanto Revolutionaries and Geeks. Palgrave Macmillan, Cham. https://doi.org/10.1007/978-3-030-84230-7_7
DOI: https://doi.org/10.1007/978-3-030-84230-7_7

Published:

Publisher Name: Palgrave Macmillan, Cham

Print ISBN: 978-3-030-84229-1

Online ISBN: 978-3-030-84230-7

eBook Packages: Social SciencesSocial Sciences (R0)