Abstract

Focusing on how members of a left-leaning Esperanto association in Paris engage with the seeming decline of Esperanto as a tool for political activism, this chapter explores how Esperantists grapple to advance the language as a timely cause when traditional working-class, left-wing activism loses ground in France. Analysing Esperantists' nostalgia for the future, I argue that their yearnings for Esperanto's success aim not a farfetched future, but at everyday, ordinary accomplishments. In dialogue with anthropological scholarship on social movements and temporal reasonings, this chapter challenges the theoretical perception that posits the present as a field of action, since here the present appears deprived of its transformative potential, as lived by activists who regard the language's apparent stability as a sign of stagnation of their cause.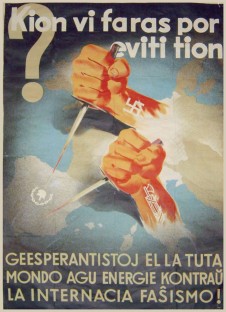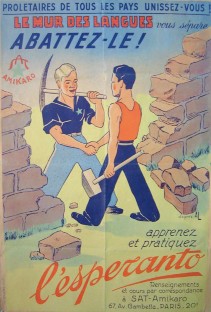 Notes
1.

Before the foundation of SAT and SAT-Amikaro, there had already been a left-wing, workers' Esperanto movement in France. Esperantists acted mostly through non-Esperanto associations and published articles in the left-leaning magazine L'Humanité, reporting on the 1905 Universal Congress of Esperanto and 'stressing the value of Esperanto for the workers, who do not have the means for luxuries such as learning foreign languages' (Forster 1982: 189).

2.

Ironically enough, as we will see, his cap read 'Antaŭen', which is the imperative form of 'to move forward' in Esperanto.

3.

Public programmes, such as the European Voluntary Service and Service Civique, have given young people the opportunity to participate as paid volunteers for a certain period in French associations. While increasing youth's participation in the associative milieu, such programmes have also made their volunteering conditional on remuneration, which often results in their involvement being terminated when the financial support ends.

4.

In some cases, one's link to a particular association is also linguistically marked. Several members of SAT-Amikaro who do not use Esperanto elsewhere distinguish 'ci' and 'vi' as, respectively, the informal and the formal second person singular in Esperanto. Doing so marks a refusal to use a linguistic form of deference, emphasising the equality between every language user. Unintentionally, this performative use of Esperanto also discloses their mother tongue, since this distinction is drawn from the difference between 'tu' and 'vous' in French and is not used by Esperanto speakers from other linguistic backgrounds. Nonetheless, 'ci' as an informal second person singular also figures in some early Esperanto texts, as well as in documents from the French Esperanto Youth Organisation (JEFO, the youth branch of Espéranto-France) from the 1970s. Nowadays, however, it is a linguistic mark often associated with SAT-Amikaro and, to a lesser extent, with SAT, while 'vi' consolidated its position as the standard second person singular in Esperanto.

5.

Several SAT-Amikaro members were against using Brexit to promote Esperanto. For them, the idea of advancing it as a candidate working language for the EU would turn Esperanto into a hegemonic language. If the learning and use of Esperanto were to become a requirement in some settings, this would undermine the language's non-compulsory character.
References
Augustine, Bishop of Hippo. 1998. Confessions. Oxford: Oxford University Press.

Bartolone, Claude. 2015. Libérer l'engagement des Français et refonder le lien civique. Paris: Assemblée Nationale.

Calhoun, Craig. 1993. 'New Social Movements' of the Early Nineteenth Century. Social Science History 17 (3): 385–427. https://doi.org/10.1017/S0145553200018642.

Cottin-Marx, Simon. 2019. Sociologie du monde associatif. Paris: Éditions La Découverte.

Douglas, Mary. 1966. Purity and Danger: An Analysis of Concepts of Pollution and Taboo. London and New York: Routledge.

Fians, Guilherme. 2018. Die Neutralität einer politischen Partei: Sprachpolitik und Aktivismus für Esperanto in den Wahlen zum Europäischen Parlament. Jahrbuch Der Gesellschaft Für Interlinguistik 2018: 11–33.

Fians, Guilherme. 2020. Mind the Age Gap: Communication Technologies and Intergenerational Language Transmission Among Esperanto Speakers in France. Language Problems and Language Planning 44 (1): 97–108. https://doi.org/10.1075/lplp.00057.fia.

Forster, Peter G. 1982. The Esperanto Movement: Contributions to the Sociology of Language. The Hague: Mouton.

France. 1901. Loi du 1er juillet 1901 relative au contrat d'association (texte consolidé). Available online at: https://www.legifrance.gouv.fr/affichTexte.do?cidTexte=JORFTEXT000000497458&fastPos=2&fasfastRe=841997403&categorieLien=cid&oldAction=rechTexte. Accessed 3 May 2018.

Garvía, Roberto. 2015. Esperanto and Its Rivals: The Struggle for an International Language. Philadelphia: University of Pennsylvania Press.

Gelb, Joyce, and Vivien Hart. 1999. Feminist Politics in a Hostile Environment: Obstacles and Opportunities. In How Social Movements Matter, ed. Marco Giugni, Doug McAdam, and Charles Tilly. Minneapolis: University of Minnesota Press.

Hunt, Scott A., and Robert D. Benford. 2004. Collective Identity, Solidarity, and Commitment. In The Blackwell Companion to Social Movements, ed. David A. Snow, Sarah A. Soule, and Hanspeter Kriesi. Oxford and Cambridge, MA: Blackwell Publishers Ltd.

Jansen, Stef. 2015. Yearnings in the Meantime: 'Normal Lives' and the State in a Sarajevo Apartment Complex. New York and Oxford: Berghahn.

Jansen, Stef. 2016. For a Relational, Historical Ethnography of Hope: Indeterminacy and Determination in the Bosnian and Herzegovinian Meantime. History and Anthropology 27 (4): 447–464. https://doi.org/10.1080/02757206.2016.1201481.

Marullo, Sam, and David S. Meyer. 2004. Antiwar and Peace Movements. In The Blackwell Companion to Social Movements, ed. David A. Snow, Sarah A. Soule, and Hanspeter Kriesi. Oxford and Cambridge, MA: Blackwell Publishers Ltd.

Piot, Charles. 2010. Nostalgia for the Future: West Africa After the Cold War. Chicago: University of Chicago Press.

Putnam, Robert D. 2000. Bowling Alone: The Collapse and Revival of American Community. New York: Simon and Schuster.

Raymond, Gino G. 2005. The French Communist Party During the Fifth Republic: A Crisis of Leadership and Ideology. New York: Palgrave Macmillan.

Ringel, Felix. 2012. Towards Anarchist Futures? Creative Presentism, Vanguard Practices and Anthropological Hopes. Critique of Anthropology 32 (2): 173–188. https://doi.org/10.1177%2F0308275X12437979.

Ringel, Felix. 2016. Beyond Temporality: Notes on the Anthropology of Time from a Shrinking Fieldsite. Anthropological Theory 16 (4): 390–412. https://doi.org/10.1177%2F1463499616659971.

Ringel, Felix. 2018. Back to the Postindustrial Future: An Ethnography of Germany's Fastest-Shrinking City. New York and Oxford: Berghahn Books.

Roche, John, and Stephen Sachs. 1955. The Bureaucrat and the Enthusiast: An Exploration of the Leadership of Social Movements. The Western Political Quarterly 8 (2): 248–261.

Thierry, Dominique, Jacques Malet, and Cécile Bazin. 2016. L'évolution de l'engagement bénévole associatif en France, de 2010 à 2016. Paris: France Bénévolat.

Tilly, Charles. 1999. From Interactions to Outcomes in Social Movements. In How Social Movements Matter, ed. Marco Giugni, Doug McAdam, and Charles Tilly. Minneapolis: University of Minnesota Press.
Copyright information

© 2021 The Editor(s) (if applicable) and The Author(s), under exclusive licence to Springer Nature Switzerland AG
About this chapter
Cite this chapter
Fians, G. (2021). On Moving and Standing Still: The Social Movement from the Standpoint of an Esperanto Association. In: Esperanto Revolutionaries and Geeks. Palgrave Macmillan, Cham. https://doi.org/10.1007/978-3-030-84230-7_6
DOI: https://doi.org/10.1007/978-3-030-84230-7_6

Published:

Publisher Name: Palgrave Macmillan, Cham

Print ISBN: 978-3-030-84229-1

Online ISBN: 978-3-030-84230-7

eBook Packages: Social SciencesSocial Sciences (R0)