Abstract

Based on an ethnographic account of the 2017 Universal Congress of Esperanto, in Seoul, this chapter explores how certain understandings of nationality emerged historically among Esperanto speakers, foregrounding national diversity as the proxy of difference to be valued and celebrated by particular forms of cosmopolitan openness. I argue that, as nationality becomes a token for diverse forms of alterity, Esperantists forge and reinforce stereotyped perceptions of nationalities to, then, overcome these perceptions by partially turning Esperantists from different nationalities into fellow members of this international speech community. Beginning with what motivates Esperantists to physically get together, I explore how a specific grammar of national differences is highlighted, examining how this community emerges in constant tension via an internationalism that simultaneously embraces nationalities and rejects nationalisms.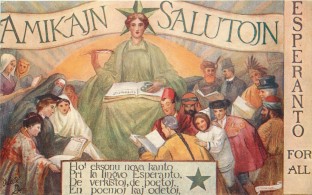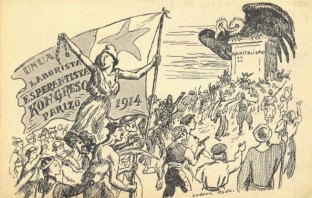 Notes
1.

I use national Other with capital O to underline the 'different' features at once abstract and relational that are said to characterise Esperantists from distinct national, linguistic and cultural backgrounds.

2.

In commenting on how constructed languages such as Esperanto work to create new worlds, Monica Heller states: 'either we think we will solve human problems by finding a way to communicate clearly across difference, or we think we will do so by embracing the incommensurability of difference. Sometimes, we think both are true at once' (2017: 13). This applies to how the cosmopolitan sociabilities at stake sometimes blend the principles outlined in the previous section.

3.

Regarding varieties of Esperanto according to the influence of people's mother tongues, it is also relevant to consider such influence in cases of children who learn Esperanto from birth (Corsetti et al. 2004; Lindstedt 2006, 2010; Fiedler 2012: 73–76) and in stress patterns in spoken Esperanto (Abrahamsen 2015).
References
Abrahamsen, Jardar Eggesbø. 2015. Compound Stress in a Norwegian Variety of Esperanto. Nordic Journal of Linguistics 38 (2): 245–284. https://doi.org/10.1017/S0332586515000128.

Alić, Gemaludin (Ed.). 1989. Antologio de la Moderna Bosnia-Hercegovina Novelo. Sarajevo: ELBIH.

Anderson, Benedict. 2006. Imagined Communities: Reflections on the Origin and Spread of Nationalism. London and New York: Verso.

Augé, Marc. 1995. Non-Places: Introduction to an Anthropology of Supermodernity. London and New York: Verso.

Azzi, Giordano (Ed.). 1987. Itala Antologio: Ekde la XIII-a ĝis la XIX-a Jarcento. Milan: Cooperativa Editoriale Esperanto.

Barth, Fredrik. 1969. Introduction. In Ethnic Groups and Boundaries: The Social Organization of Cultural Difference, ed. Fredrik Barth. Boston: Little, Brown and Company.

Bateson, Gregory. 1972. Steps to an Ecology of Mind: Collected Essays in Anthropology, Psychiatry, Evolution and Epistemology. New York: Ballantine Books.

Bayat, Asef. 2008. Everyday Cosmopolitanism. ISIM Review 22 (1): 5.

Beck, Ulrich, and Natan Sznaider. 2010. Unpacking Cosmopolitanism for the Social Sciences: A Research Agenda. The British Journal of Sociology 57 (1): 381–403. https://doi.org/10.1111/j.1468-4446.2009.01250.x.

Candea, Matei. 2010. Corsican Fragments: Difference, Knowledge, and Fieldwork. Bloomington and Indianapolis: Indiana University Press.

Corsetti, Renato, Maria Antonietta Pinto, and Maria Tolomeo. 2004. Regularizing the Regular: The Phenomenon of Overregularization in Esperanto-Speaking Children. Language Problems and Language Planning 28 (3): 261–282. https://doi.org/10.1075/lplp.28.3.04cor.

Eriksen, Thomas Hylland. 1992. Linguistic Hegemony and Minority Resistance. Journal of Peace Research 29 (3): 313–332. https://doi.org/10.1177/0022343392029003007.

Eriksen, Thomas Hylland. 2001. Between Universalism and Relativism: A Critique of the UNESCO Concept of Culture. In Culture and Rights: Anthropological Perspectives, ed. Jane K. Cowan, Marie-Bénédicte Dembour, and Richard A. Wilson. Cambridge: Cambridge University Press.

Fians, Guilherme. 2012. Cidadãos do Mundo: Uma Discussão sobre o Nacional e o Internacional no Esperanto. Revista Habitus 10 (1): 50–63.

Fiedler, Sabine. 2012. The Esperanto Denaskulo: The Status of the Native Speaker of Esperanto Within and Beyond the Planned Language Community. Language Problems and Language Planning 36 (1): 69–84. https://doi.org/10.1075/lplp.36.1.04fie.

Forster, Peter G. 1982. The Esperanto Movement: Contributions to the Sociology of Language. The Hague: Mouton.

Garvía, Roberto. 2015. Esperanto and Its Rivals: The Struggle for an International Language. Philadelphia: University of Pennsylvania Press.

Gobbo, Federico. 2017. Beyond the Nation-State? The Ideology of the Esperanto Movement Between Neutralism and Multilingualism. Social Inclusion 5 (4): 38–47. https://doi.org/10.17645/si.v5i4.1140.

Hannerz, Ulf. 1990. Cosmopolitans and Locals in World Culture. Theory, Culture and Society 7: 237–251. https://doi.org/10.1177/026327690007002014.

Hannerz, Ulf. 2005. Two Faces of Cosmopolitanism: Culture and Politics. Statsvetenskaplig Tidskrift 107 (3): 199–213.

Harvey, Penelope. 1996. Hybrids of Modernity: Anthropology, the Nation State and the Universal Exhibition. London and New York: Routledge.

Heller, Monica. 2017. Dr. Esperanto, or Anthropology as Alternative Worlds. American Anthropologist 119 (1): 12–22. https://doi.org/10.1111/aman.12824.

Hobsbawm, Eric. 2000. Introduction: Inventing Traditions. In The Invention of Tradition, ed. Eric Hobsbawm and Terence Ranger. Cambridge: Cambridge University Press.

Hobsbawm, Eric. 2012. Ethnicity and Nationalism in Europe Today. In Mapping the Nation, ed. Gopal Balakrishnan. London and New York: Verso.

Jaffe, Alexandra. 1993. Obligation, Error, and Authenticity: Competing Cultural Principles in the Teaching of Corsican. Journal of Linguistic Anthropology 3 (1): 99–114. https://doi.org/10.1525/jlin.1993.3.1.99.

Kant, Immanuel. 2010. Perpetual Peace: A Philosophical Sketch. Philadelphia and Syracuse: Slought Foundation and the Syracuse University Humanities Center.

Kolker, Boris. 2005. Enigmoj de Ludoviko Zamenhof. In Vojaĝo en Esperanto-Lando: Perfektiga Kurso de Esperanto kaj Gvidlibro pri la Esperanta Kulturo, ed. Boris Kolker. Rotterdam: Universala Esperanto-Asocio.

Korzhenkov, Aleksandr. 2010. Zamenhof: The Life, Works, and Ideas of the Author of Esperanto. New York: Mondial.

Lamont, Michèle, and Sada Aksartova. 2002. Ordinary Cosmopolitanisms: Strategies for Bridging Racial Boundaries Among Working-Class Men. Theory, Culture and Society 19 (4): 1–25. https://doi.org/10.1177%2F0263276402019004001.

Lanti, Eugène. 2013. Internaciismo. In Du Klasikaĵoj pri Sennaciismo, ed. Eugène Lanti and Viktoro Elsudo. Paris: Eldona Fako Kooperativa de SAT.

Lindstedt, Jouko. 2006. Native Esperanto as a Test Case for Natural Language. In A Man of Measure: Festschrift in Honour of Fred Karlsson on His 60th Birthday (Special Supplement to SKY Journal of Linguistics 19), ed. Mickael Suominen. Turku: SKY.

Lindstedt, Jouko. 2010. Esperanto as a Family Language. In Lingua franca: La véhicularité linguistique pour vivre, travailler et étudier, ed. Fred Dervin. Paris: L'Harmattan.

Malkki, Liisa. 1994. Citizens of Humanity: Internationalism and the Imagined Community of Nations. Diaspora 3 (1): 41–68. https://doi.org/10.1353/dsp.1994.0013.

Miyamoto, Masao, and Teruhiko Isiguro (Eds.). 1965. El Japana Literaturo. Tokio: JEI.

Nagai, Kaori. 2010. 'The New Bilingualism': Esperanto in the Era of Cosmopolitanism. In Rerouting the Postcolonial: New Directions for the New Millennium, ed. Janet Wilson, Cristina Sandru, and Sarah Lawson Welsh. London and New York: Routledge.

Nowicka, Magdalena, and Maria Rovisco. 2009. Making Sense of Cosmopolitanism. In Cosmopolitanism in Practice, ed. Magdalena Nowicka and Maria Rovisco. Farnham: Ashgate.

O'Keeffe, Brigid. 2019. An International Language for an Empire of Humanity: L. L. Zamenhof and the Imperial Russian Origins of Esperanto. East European Jewish Affairs 49 (1): 1–19. https://doi.org/10.1080/13501674.2019.1618165.

Privat, Edmond. 2001. La Vivo de Zamenhof. Tyresö: Inko.

Renan, Ernest. 1990. What Is a Nation? In Nation and Narration, ed. Homi K. Bhabha. London: Routledge.

Richmond, Ian. 1993. Esperanto Literature and the International Reader. In Aspects of Internationalism: Language and Culture, ed. Ian Richmond. Lanham, New York, and London: University Press of America.

Schiller, Nina Glick, Tsypylma Darieva, and Sandra Gruner-Domic. 2011. Defining Cosmopolitan Sociability in a Transnational Age: An Introduction. Ethnic and Racial Studies 34 (3): 399–418. https://doi.org/10.1080/01419870.2011.533781.

Schor, Esther. 2016. Bridge of Words: Esperanto and the Dream of a Universal Language. New York: Metropolitan Books/Henry Holt and Company.

Simmel, Georg. 1971. The Stranger. In Georg Simmel, On Individuality and Social Forms: Selected Writings, ed. Donald Levine. Chicago: University of Chicago Press.

Wagner, Roy. 1975. The Invention of Culture. Chicago and London: The University of Chicago Press.

Waldron, Jeremy. 2000. What Is Cosmopolitan? Journal of Political Philosophy 8 (2): 227–243. https://doi.org/10.1111/1467-9760.00100.

Zamenhof, Ludwig Lazar. 1929. Homaranismo (1906). In Originala Verkaro de L. L. Zamenhof, ed. Johannes Dietterle. Leipzig: Ferdinand Hirt & Sohn.

Zamenhof, Ludwig Lazar. 2001. Paroladoj. Tyresö: Inko.
Copyright information

© 2021 The Editor(s) (if applicable) and The Author(s), under exclusive licence to Springer Nature Switzerland AG
About this chapter
Cite this chapter
Fians, G. (2021). When Esperantists Meet, or What Makes This Community International?. In: Esperanto Revolutionaries and Geeks. Palgrave Macmillan, Cham. https://doi.org/10.1007/978-3-030-84230-7_4
DOI: https://doi.org/10.1007/978-3-030-84230-7_4

Published:

Publisher Name: Palgrave Macmillan, Cham

Print ISBN: 978-3-030-84229-1

Online ISBN: 978-3-030-84230-7

eBook Packages: Social SciencesSocial Sciences (R0)