Abstract

Beginning with an ethnography of the Universal Esperanto Association's bookshop, in Rotterdam, this chapter investigates how the status of the Esperanto community as an international community relies on the continuous circulation of people and things to overcome the global dispersion of Esperanto speakers. Following the packing and shipping of books from Rotterdam to Seoul for the 2017 Universal Congress of Esperanto, I explore how the main task of the bookshop salesperson of keeping track of and mapping out this readership also constitutes the very labour that continuously (re)create and (re)produce this speech community's short-lived materiality. The discussion about regular travelling as a precondition to joining occasional large-scale materialisations of this international pop-up community also includes a methodological consideration on how to approach Esperanto speakers ethnographically.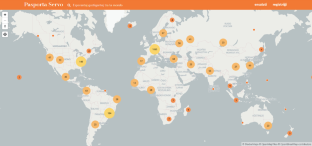 Notes
1.

For instance, France can be translated as either Francujo or Francio, and England as Anglujo or Anglio.

2.

Hence, Franco, a Frenchman, and Francujo, a container for the French people. Zamenhof suggested -i- in his 1894 language reform proposal as an alternative, to avoid determinist overtones of a country being a container for a specific people or ethnic group (Forster 1982: 136).

3.

In other regions of France, it is common for local Esperanto associations to invest in the teaching of Esperanto in elementary schools within the scope of the extracurricular activities proposed by the projects NAP and TAP (Nouvelles/Temps d'Activités Périscolaires). Similarly, such Esperanto associations often support initiatives to promote regional languages, such as Breton in Bretagne and Occitan in the south of France.

4.

Marianne Cramer conducted a historical analysis of the left-wing, workers' Esperanto movement 'without being an Esperantist' (2005: 6)—meaning, in this case, without mastering the language. As a result, she was not able to access most of the Esperanto language primary sources and had to rely on the help of French Esperantists to translate documents.
References
Barandovská-Frank, Vera. 1995. Enkonduka Lernolibro de Interlingvistiko. Sibiu-Hermannstadt: Editura Universităţii.

Burrell, Jenna. 2009. The Field Site as a Network: A Strategy for Locating Ethnographic Research. Field Methods 21 (2): 181–199. https://doi.org/10.1177/1525822X08329699.

Candea, Matei. 2007. Arbitrary Locations: In Defence of the Bounded Field-Site. Journal of the Royal Anthropological Institute 13: 167–184. https://doi.org/10.1111/j.1467-9655.2007.00419.x.

Candea, Matei. 2010. Corsican Fragments: Difference, Knowledge, and Fieldwork. Bloomington and Indianapolis: Indiana University Press.

Clifford, James. 1992. Traveling Cultures. In Cultural Studies, ed. Larry Grossberg, Carry Nelson, and Paula Treicher. New York: Routledge.

Cramer, Marianne. 2005. L'Espéranto, une langue au service d'un 'monde meilleur. MA Dissertation in Communication and Scientific, Technical and Medical Information. Université Paris VII, Paris Diderot.

Cresswell, Tim. 2014. Friction. InThe Routledge Handbook of Mobilities, ed. Peter Adey, David Bissell, Kevin Hannam, Peter Merriman, and Mimi Sheller. London and New York: Routledge.

Fishman, Joshua A. 1965. Who Speaks What Language to Whom and When? La Linguistique 1 (2): 67–88.

Forster, Peter G. 1982. The Esperanto Movement: Contributions to the Sociology of Language. The Hague: Mouton.

Garvía, Roberto. 2015. Esperanto and Its Rivals: The Struggle for an International Language. Philadelphia: University of Pennsylvania Press.

Hage, Ghassan. 2003. Against Paranoid Nationalism: Searching for Hope in a Shrinking Society. Annandale: Pluto/ Merlin.

Hage, Ghassan. 2005. A Not So Multi-Sited Ethnography of a Not So Imagined Community. Anthropological Theory 5 (4): 463–475. https://doi.org/10.1177/1463499605059232.

Hayward, Philip. 2014. Islands and Micronationality: An Introduction. Shima: The International Journal of Research into Island Cultures 8 (1): 1–8. https://doi.org/10.21463/shima.im.anth.int.

Jansen, Stef. 2009. After the Red Passport: Towards an Anthropology of the Everyday Geopolitics of Entrapment in the EU's 'Immediate Outside.' Journal of the Royal Anthropological Institute 15: 815–832. https://doi.org/10.1111/j.1467-9655.2009.01586.x.

Kaufmann, Vincent, Manfred Max Bergman, and Dominique Joye. 2004. Motility: Mobility as Capital. International Journal of Urban and Regional Research 28 (4): 745–756. https://doi.org/10.1111/j.0309-1317.2004.00549.x.

Lins, Ulrich. 2008. Esperanto as Language and Idea in China and Japan. Language Problems and Language Planning 32 (1): 47–60. https://doi.org/10.1075/lplp.32.1.05lin.

Lins, Ulrich. 2016. Dangerous Language: Esperanto Under Hitler and Stalin. London: Palgrave Macmillan.

Malinowski, Bronislaw. 1922. Argonauts of the Western Pacific: An Account of Native Enterprise and Adventure in the Archipelagos of Melanesian New Guinea. London: Routledge & Kegan Paul Ltd.

Marcus, George. 1995. Ethnography in/of the World System: The Emergency of Multi-sited Ethnography. Annual Review of Anthropology 24: 95–117. https://doi.org/10.1146/annurev.an.24.100195.000523.

Müller, Gotelind, and Gregor Benton. 2006. Esperanto and Chinese Anarchism 1907–1920: The Translation from Diaspora to Homeland. Language Problems and Language Planning 30 (1): 45–73.

Okrent, Arika. 2006. A Visit to Esperantoland: The Natives Want You to Learn Their Invented Language as a Step Toward World Harmony. Who Are These People? The American Scholar 75 (1): 93–108.

Pardue, David. 2001. Uma Só Língua, Uma Só Bandeira, Um Só Pastor: Spiritism and Esperanto in Brazil. Esperantologio / Esperanto Studies 2: 11–27.

Phillipson, Robert. 1992. Linguistic Imperialism. Oxford: Oxford University Press.

Privat, Edmond. 2001. La Vivo de Zamenhof. Tyresö: Inko.

Rapley, Ian. 2013. When Global and Local Culture Meet: Esperanto in 1920s Rural Japan. Language Problems and Language Planning 37 (2): 179–196. https://doi.org/10.1075/lplp.37.2.04rap.

Riles, Annelise. 2000. The Network Inside Out. Ann Arbor: University of Michigan Press.

Saladin, Thierry. 2017. Le mouvement espérantiste – Vers une seconde période française? 2/4. Espéranto-Info, 5 February. Available online at http://esperantoinfo.info/mouvement-esperantiste-24/. Accessed 23 October 2017.

Salazar, Noel, and Alan Smart. 2011. Anthropological Takes on (Im)mobility. Identities: Global Studies in Culture and Power 18 (6): i–ix. https://doi.org/10.1080/1070289X.2012.683674.

Schor, Esther. 2016. Bridge of Words: Esperanto and the Dream of a Universal Language. New York: Metropolitan Books/Henry Holt and Company.

Shokeid, Moshe. 1988. Children of Circumstances: Israeli Emigrants in New York. Ithaca: Cornell University Press.

Shokeid, Moshe. 2007. From the Tikopia to Polymorphous Engagements: Ethnographic Writing Under Changing Fieldwork Circumstances. Social Anthropology 15 (3): 305–320. https://doi.org/10.1111/j.0964-0282.2007.00018.x.

Strathern, Marilyn. 1996. Cutting the Network. Journal of the Royal Anthropological Institute 2 (3): 517–535. https://doi.org/10.2307/3034901.

Tsing, Ana. 2005. Friction: An Ethnography of Global Connections. Princeton and Oxford: Princeton University Press.

Urla, Jacqueline. 1993. Cultural Politics in an Age of Statistics: Numbers, Nations, and the Making of Basque Identity. American Ethnologist 20 (4): 818–843. https://doi.org/10.1525/ae.1993.20.4.02a00080.

Żelichowski, Ryszard. 2009. Is a State Within the State Possible? Neutral Moresnet and Baarle-Nassau/Baarle-Hertog—Two Cases of Struggle for Existence on the Territory of the Kingdom of the Netherlands. Region and Regionalism 9 (2): 211–220.
Copyright information

© 2021 The Editor(s) (if applicable) and The Author(s), under exclusive licence to Springer Nature Switzerland AG
About this chapter
Cite this chapter
Fians, G. (2021). Follow the (Non-)Native: Circulating, Mapping and Territorialising the Esperanto Community. In: Esperanto Revolutionaries and Geeks. Palgrave Macmillan, Cham. https://doi.org/10.1007/978-3-030-84230-7_3
DOI: https://doi.org/10.1007/978-3-030-84230-7_3

Published:

Publisher Name: Palgrave Macmillan, Cham

Print ISBN: 978-3-030-84229-1

Online ISBN: 978-3-030-84230-7

eBook Packages: Social SciencesSocial Sciences (R0)