Abstract
Technologies to measure gaze direction and pupil reactivity have become efficient, cheap, and compact and are finding increasing use in many fields, including gaming, marketing, driver safety, military, and healthcare. Besides offering numerous useful applications, the rapidly expanding technology raises serious privacy concerns. Through the lens of advanced data analytics, gaze patterns can reveal much more information than a user wishes and expects to give away. Drawing from a broad range of scientific disciplines, this paper provides a structured overview of personal data that can be inferred from recorded eye activities. Our analysis of the literature shows that eye tracking data may implicitly contain information about a user's biometric identity, gender, age, ethnicity, body weight, personality traits, drug consumption habits, emotional state, skills and abilities, fears, interests, and sexual preferences. Certain eye tracking measures may even reveal specific cognitive processes and can be used to diagnose various physical and mental health conditions. By portraying the richness and sensitivity of gaze data, this paper provides an important basis for consumer education, privacy impact assessments, and further research into the societal implications of eye tracking.
Keywords
Eye tracking 
Gaze 
Pupil 
Iris 
Vision 
Privacy 
Data mining 
Inference 
1

Introduction

Being an important part of visual perception and human behavior, eye movements have long been a subject of research interest. The first approaches to measure a person's gaze direction date back to the early 1900s [74]. Until recently, these technologies were severely limited by the cost of the equipment required, a lack of precision, and poor usability and were only used in very specific niches of research. Over the last few years, however, with rapid advances in sensor technology and data processing software, eye tracking solutions have become easy to use, lightweight, efficient, and affordable and found increasing adoption in many fields, including gaming, marketing, automotive technology, military, and healthcare [26].

While alternatives1 exist, the most popular method today is video-based eye tracking, where mathematical models are used to calculate a person's gaze direction from video recordings, for example based on the shape and position of pupil and iris, or based on light reflection patterns in the eyes [2]. This method can not only be used in head-mounted devices, such as smart glasses and virtual reality headsets, but also through built-in cameras in laptops, tablets, and smartphones without requiring any additional hardware [45, 56]. With further improvements in cost and performance, eye tracking may soon be included as a standard feature in various consumer electronics, moving us towards a "pervasive eye tracking world" [58].

The many beneficial uses and enormous potentials of the rising technology have to be acknowledged and should be embraced. However, a more ubiquitous use of eye tracking will also raise serious privacy concerns – not only because gaze data may be collected and shared in non-transparent ways, but also because such data can unexpectedly contain a wealth of sensitive information about a user.

Drawing from a broad range of scientific disciplines, including neuroscience, human-computer interaction, medical informatics, affective computing, experimental economics, psychology, and cognitive science, this paper provides a structured overview and classification of sensitive pieces of information that can be disclosed by analyzing a person's eye activities. According to the reviewed literature, eye tracking data may reveal information about a user's biometric identity (Sect. 2.1), mental activities (Sect. 2.2), personality traits (Sect. 2.3), ethnic background (Sect. 2.4), skills and abilities (Sect. 2.5), age and gender (Sect. 2.6), personal preferences (Sect. 2.7), emotional state (Sect. 2.8), degree of sleepiness and intoxication (Sect. 2.8), and physical and mental health condition (Sect. 2.9). In order to take rapidly evolving technology trends and newly emerging privacy threats into account, we will consider not only proven and established approaches but also inference methods that are subject to ongoing research. Limitations of the presented methods and their practical applicability will be reflected upon in Sect. 3, followed by a conclusion in Sect. 4.
2

Inference of Personal Information from Eye Tracking Data

With reference to published research, filed patents, and existing commercial products, this section presents and categorizes personal information that can be inferred from eye tracking data. As a basis for potential inferences, eye tracking devices can record a large variety of gaze parameters.

Some of the most commonly measured eye movements are fixations, saccades, and smooth pursuit eye movements [

85

]. During a fixation, the eyes are relatively stable and focused on a specific position, allowing for information to be acquired and processed. Saccades are rapid eye movements from one fixation point to another, lasting 30 to 80 ms [

87

]. Smooth pursuit movements are performed when eyes are closely following a moving visual target. In addition to the spatial dispersion, duration, amplitude, acceleration, velocity, and chronological sequence of such eye movements, many eye trackers capture various other eye activities, including eye opening and closure (e.g., average distance between the eyelids, blink duration, blink frequency), ocular microtremors, pupil size, and pupil reactivity [

19

,

58

]. Furthermore, most eye trackers videotape parts of the user's face and may thereby capture additional information, such as the number and depth of wrinkles, and a user's eye shape and iris texture [

40

]. Therefore, these parameters were also considered in our investigation into the richness and sensitivity of eye tracking data. Fig. 

1

provides an introductory overview of common eye tracking measures and the categories of inferences discussed in this paper.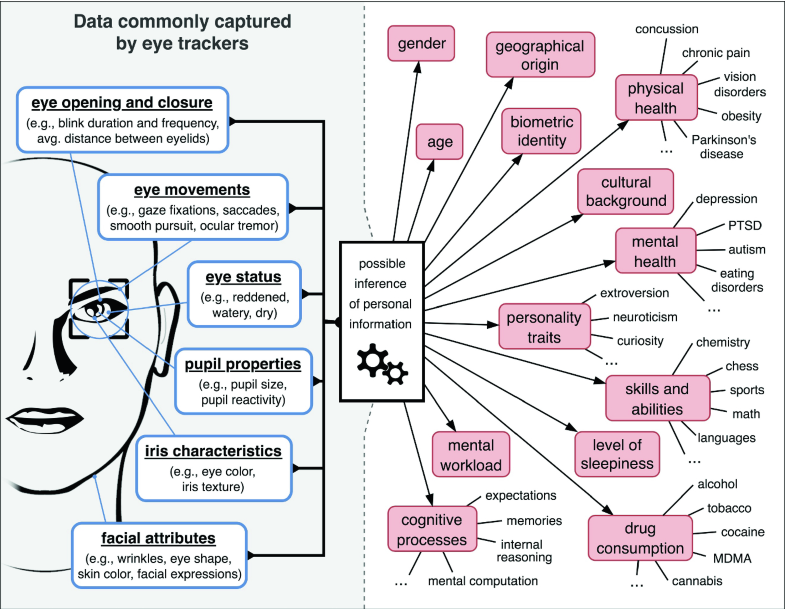 3

Discussion and Implications

As shown in the previous section, various kinds of sensitive inferences can be drawn from eye tracking data. Among other categories of personal data, recorded visual behavior can implicitly contain information about a person's biometric identity, personality traits, ethnic background, age, gender, emotions, fears, preferences, skills and abilities, drug habits, levels of sleepiness and intoxication, and physical and mental health condition. To some extent, even distinct stages of cognitive information processing are discernable from gaze data. Thus, devices with eye tracking capability have the potential to implicitly capture much more information than a user wishes and expects to reveal. Some of the categories of personal information listed above constitute special category data, for which particular protection is prescribed by the EU's General Data Protection Regulation (Art. 9 GDPR).

Of course, drawing reliable inferences from eye tracking data is not a trivial task. Many situational factors can influence eye properties and gaze behavior in complex ways, making it difficult to measure the effect of a particular action, internal process, or personal characteristic of the user in isolation [55]. Seemingly identical ocular reactions can result from completely different causes. For example, an intensive gaze fixation on another person's face may indicate liking, aversion, confusion, recognition, and much more. Similarly, a sudden change in pupil size can be indicative of many different feelings or internal states, including physical pain, sexual arousal, interest, happiness, anger, or simply be a reaction to ambient events and conditions, such as noise or varying lighting [19, 55].

In spite of existing challenges and limitations, the reviewed literature demonstrates that there is considerable potential for inferences in many areas and that numerous research projects, patented systems, and even commercial products have already taken advantage of the richness of eye tracking data to draw inferences about individuals with high accuracy.

It should be acknowledged that many of the cited inference methods were only tested under controlled laboratory conditions and lack evaluation in real-world scenarios [4, 18, 27, 52, 65, 67, 69, 86, 88]. On the other hand, it may reasonably be assumed that some of the companies with access to eye tracking data from consumer devices (e.g., device manufacturers, ecosystem providers) possess larger sets of training data, more technical expertise, and more financial resources than the researchers cited in this paper. Facebook, for example, a pioneer in virtual reality and eye tracking technology, is also one of the wealthiest and most profitable companies in the world with a multi-billion dollar budget for research and development and a user base of over 2.3 billion people [93]. It seems probable that the threat of unintended information disclosure from gaze data will continue to grow with further improvements of eye tracking technology in terms of cost, size, and accuracy, further advances in analytical approaches, and the increasing use of eye tracking in various aspects of daily life.

In assessing the privacy implications of eye tracking, it is important to understand that, while consciously directed eye movements are possible, many aspects of ocular behavior are not under volitional control – especially not at the micro level [19, 55]. For instance, stimulus-driven glances, pupil dilation, ocular tremor, and spontaneous blinks mostly occur without conscious effort, similar to digestion and breathing. And even for those eye activities where volitional control is possible, maintaining it can quickly become physically and cognitively tiring [58] – and may also produce certain visible patterns by which such efforts can be detected. Hence, it can be very difficult or even impossible for eye tracking users to consciously prevent the leakage of personal information.

Though this paper focuses on privacy risks, we do not dispute the wide-ranging benefits of eye tracking. Quite the opposite: we believe that it is precisely the richness of gaze data and the possibility to draw insightful inferences from it that make the rising technology so valuable and useful. But to exploit this potential in a sustainable and socially acceptable manner, adequate privacy protection measures are needed.

Technical safeguards have been proposed to prevent the unintended disclosure of personal information in data mining, including specialized solutions for eye tracking data [58, 80]. These comprise the fuzzing of gaze data (i.e., inserting random noise into the signal before passing it down the application chain) and the utilization of derived parameters (e.g., aggregated values instead of detailed eye fixation sequences) [58]. Experiments have already shown that approaches based on differential privacy can prevent certain inferences, such as user re-identification and gender recognition, while maintaining high performance in gaze-based applications [80]. In addition to approaches at the technical level, it should also be examined whether existing laws provide for sufficient transparency in the processing of gaze data and for proper protection against inference-based privacy breaches. The promises and limitations of existing technical and legal remedies are beyond the scope of this paper but deserve careful scrutiny and will be considered for future work.

Even though eye tracking is a demonstrative example, the threat of undesired inferences is of course much broader, encompassing countless other sensors and data sources in modern life [47]. In other recent work, we have examined sensitive inferences that can be drawn from voice recordings [49] and accelerometer data [48, 50], for instance. In our view, the vast possibilities of continuously advancing inference methods are clearly beyond the understanding of the ordinary consumer. Therefore, we consider it to be primarily the responsibility of technical experts, technology companies, and governmental agencies to inform consumers about potential consequences and protect them against such covert invasions of privacy. Also, since it is unlikely that companies will voluntarily refrain from using or selling personal information that can be extracted from already collected data, there should be strong regulatory incentives and controls.
4

Conclusion

While the widespread adoption of eye tracking holds the potential to improve our lives in many ways, the rising technology also poses a substantial threat to privacy. The overview provided in this paper illustrates that, through the lens of advanced data analytics, eye tracking data can contain a rich array of sensitive information, including cues to a user's biometric identity, gender, age, ethnicity, personality traits, drug consumption habits, moods and emotions, skills, preferences, cognitive processes, and physical and mental health condition. Since inference methods are often based on hidden patterns and correlations that are incomprehensible to ordinary consumers, it can be impossible for them to understand and control what information is revealed.

Although there is extensive literature on the analysis of eye tracking data, we believe that many possible inferences have not yet been investigated. Keeping track of the evolving possibilities of data mining methods in this field is therefore an important avenue for future research. This paper represents a crucial first step towards understanding the sensitivity of eye tracking data from a holistic perspective. The findings compiled herein are significant enough to warrant a warning to users whose privacy could be affected, as well as a call for action to the public and private actors entrusted with protecting user privacy in consumer electronics. Considering the rapid proliferation of eye tracking technology, existing technical and legal safeguards urgently need to be assessed regarding their ability to avert undesired inferences from gaze data, or to at least prevent the misuse of sensitive inferred information.
Footnotes
2.

The authors share the UNESCO's position [60] that the classification of human populations into "races" is inadequate and obsolete. Nevertheless, it is important to monitor the state of research in this field, especially because any information indicative of a person's ethnic background can serve as a basis for racist discrimination. All terms related to the concept of "race" in this paper are cited from external sources and do not reflect the authors' views.
Copyright information
© The Author(s) 2020
Open Access This chapter is licensed under the terms of the Creative Commons Attribution 4.0 International License (http://creativecommons.org/licenses/by/4.0/), which permits use, sharing, adaptation, distribution and reproduction in any medium or format, as long as you give appropriate credit to the original author(s) and the source, provide a link to the Creative Commons license and indicate if changes were made.
The images or other third party material in this chapter are included in the chapter's Creative Commons license, unless indicated otherwise in a credit line to the material. If material is not included in the chapter's Creative Commons license and your intended use is not permitted by statutory regulation or exceeds the permitted use, you will need to obtain permission directly from the copyright holder.