Abstract
The vascular endothelium plays a significant role in the regulation of blood vessel tone and also in hemostasis through the biosynthesis and release of a variety of vasoactive products. Prostacyclin (PGI2), a major metabolite of arachidonic acid (AA) metabolism in aortic endothelial cells, is a potent vasodilator and an efficient inhibitor of platelet aggregation1. Data obtained from different cell types indicate that a pivotal step in the biosynthesis of eicosanoids in general, and also for PGI2, involve phospholipase A2-mediated release of free AA2. Although numerous mechanisms have been proposed to account for the agonist-mediated release of PGI2 in endothelial cells, many aspects of the signal transduction processes involved in the release of free AA from the phospholipid pools remain unclear. It is now recognized that the phosphorylation of specific intracellular proteins is an important event for signal transmission in a variety of stimulusresponse coupling3. Extracellular signals transmit information into the cell by activating transmembrane signaling systems through phospholipase C-mediated hydrolysis of a membrane-bound inositol lipid, which produces at least two second messengers: diacylglycerol (DAG) and inositol 1,4,5-triphosphate (IP3). The latter releases calcium from intracellular sources while DAG acts by activating the Ca2+-phospholipid-dependent protein kinase C (PKC). These pathways form the cornerstone of an ubiquitous signal transduction and amplification network now known to regulate a large array of cellular processes4,5. Despite the potential importance of PKC-mediated of specific protein phosphorylation as a post-translational regulatory mechanism in the modulation of cellular activity, little is known about phosphorylated proteins and PGI2 secretion. This chapter includes data relating intracellular protein phosphorylation and the principal signaling pathways during modulation of PGI2 secretion in cultured bovine aortic endothelial cells. The technical details are essentially similar to those previously described6.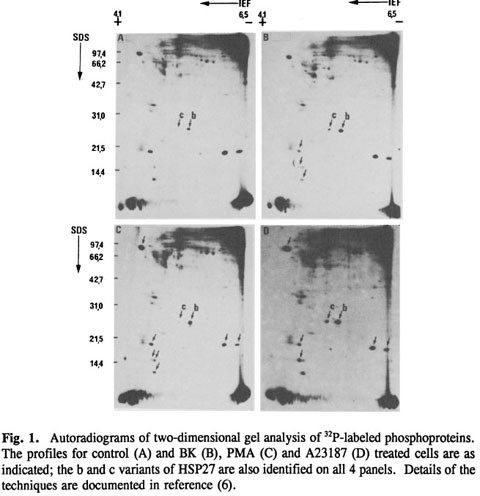 Keywords
Bovine Aortic Endothelial Cell 
Arachidonic Acid Release 
Free Arachidonic Acid 
HSP27 Phosphorylation 
Heat Shocked Cell 
These keywords were added by machine and not by the authors. This process is experimental and the keywords may be updated as the learning algorithm improves.
Copyright information
© Springer Science+Business Media New York 1991