Miscellaneous Groups of Analgesics
Abstract
Up to the late 1950s the goal of potency in the development of novel analgesics was that of the classic opiate morphine. However, in 1957 it was made apparent from reports from CIBA on analgesics based on benzimidazole that levels of activity several orders above this standard could be achieved, and the group is of historical importance on this account.
(1,2)
The compounds of general formula
3
carry a 2-aminoethyl substituent at N-1 and a benzyl substituent at C-2 with further substituents at C-5 and C-4′ in the more potent derivatives. Two synthetic routes were employed (Scheme 11.1)
(3)
: (a) condense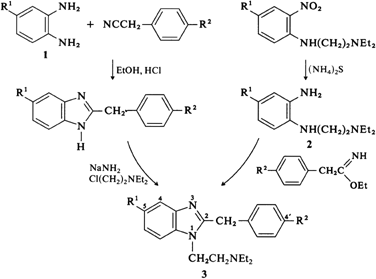 substituted
o
-phenylenediamines with a substituted benzyl cyanide (or related compound) and alkylate the product with a 2-
t
-aminoethyl chloride (
1–3
), and (b) (appropriate to derivatives with R′ substituents) condense 1-amino-2-diethylaminoethane with a 2-nitrochlorobenzene, reduce the nitro group with (NH
4
)
2
S (a 5-NO
2
substituent is unchanged), and condense the product
2
with an iminoether formed from a benzyl cyanide and EtOH-HCl.
Keywords
Dimethyl Amino Ethyl 
Miscellaneous Group 
Basic Side Chain 
Lithium Diisopropylamide 
Benzyl Substituent 
These keywords were added by machine and not by the authors. This process is experimental and the keywords may be updated as the learning algorithm improves.
Copyright information
© Springer Science+Business Media New York 1986