Abstract
Since the 1973 discovery of the remains of the USS
Monitor
in 235 ft of water off Cape Hatteras, North Carolina, and its establishment in 1975 as the nation's first National Marine Sanctuary, the site has been managed by the National Oceanic and Atmospheric Administration (NOAA). Under a federal management plan, which has as one of its overall goals the promotion and coordination of scientific research to expand our knowledge of this historically important cultural resource, the ironclad has been the subject of several research expeditions involving deep ocean technology (NOAA, 1983; Arnold
et al.
, 1991). Remotely operated cameras, side-scan sonar, deep sea submersibles, submersibles utilizing lock-out divers, remotely operated vehicles, and other equipment have descended to the ocean bottom to make a record of the site (Arnold
et al.
, 1991). These operations, although providing valuable information about the site, had limited access to the shipwreck (mostly its north side) because of prevailing currents and other weather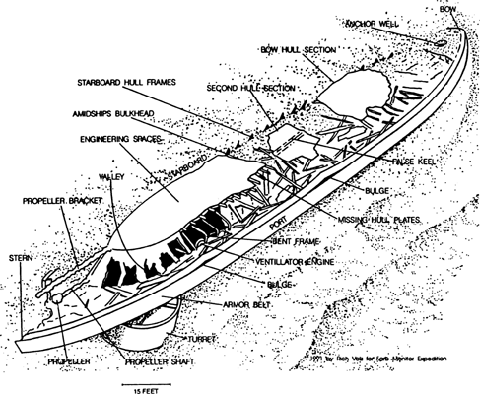 conditions. In 1977 and 1979, during expeditions supported by the Harbor Branch Foundation, several scientists visited the site as lock-out divers tethered to a deep sea submersible (NOAA, 1983; Watts, 1979). With the discontinuation of lock-out dives following the 1979 expedition (NOAA, 1983), researchers have been allowed to work on the site only remotely via submersible, ROV, or data collection devices placed on the site. Researchers have not been able to do "hands-on" research on the site in over a decade. NOAA did not permit researchers to dive to the site using scuba equipment because of the extreme depth and for safety considerations. However, by late 1980s, advances in scuba equipment, dive computers, underwater lighting, and camera technology made diving and filming at depths equivalent to that of the
Monitor
commonplace among technical scuba divers. In 1990, after several years of consideration, NOAA allowed scuba divers to do limited research on the
Monitor
site for the first time.
Keywords
Scuba Diver 
Engineering Space 
Frame Grabber 
Deck Plate 
Frame Member 
These keywords were added by machine and not by the authors. This process is experimental and the keywords may be updated as the learning algorithm improves.
Copyright information
© Springer Science+Business Media New York 1998