Substrates for Interlaminar Connections in Area V1 of Macaque Monkey Cerebral Cortex
Part of the Cerebral Cortex book series (CECO, volume 10)
Abstract
On the basis of our earlier studies of macaque visual cortical area V1 (Lund, 1973; Blasdel
et al.
, 1985; Fitzpatrick
et al.
, 1985) using Golgi impregnations and small intralaminar injections of horseradish peroxidase (HRP), a schema (reproduced here in Fig. 1) was outlined for spiny stellate neuron relays out of the thalamic recipient divisions of layer 4C (Lund, 1990). This diagram illustrates the finding that although the thalamic axons from magnocellular and parvocellular divisions of the lateral geniculate nucleus (LGN) terminate in the α and β divisions respectively of layer 4C (Hubel and Wiesel, 1972; Blasdel and Lund, 1983), the relays out of layer 4C seemed to fall into three sets. The lowermost set seemed to project in a very narrowly focused fashion to layer 4A and lower layer 3B, a set in the middle depth of layer 4C seemed to project to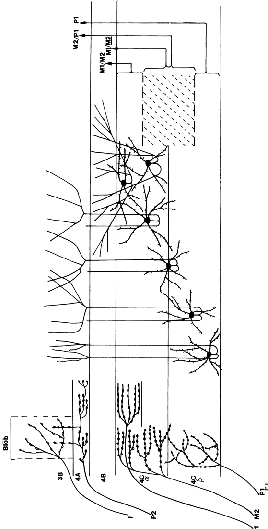 both layers 3B and 4B with more spreading axon arbors, and an upper set seemed to project principally to layer 4B. It was suggested that this distribution of projections could derive from a gradient of sampling of the magnocellular and parvocellular afferents by continuously overlapped dendritic fields of spiny stellate neurons through the depth of layer 4C; the three efferent sets of cells in layer 4C were seen as partially overlapping in depth.
Keywords
Pyramidal Neuron 
Superficial Layer 
Macaque Monkey 
Striate Cortex 
Middle Temporal 
These keywords were added by machine and not by the authors. This process is experimental and the keywords may be updated as the learning algorithm improves.
Copyright information
© Springer Science+Business Media New York 1994