Comparative Aspects of Barrel Structure and Development
Part of the Cerebral Cortex book series (CECO, volume 11)
Abstract
Cytoarchitectonic irregularities in layer IV in the cerebral cortex of the mouse, rat, and guinea pig were observed in several studies conducted in the first half of this century (DeVries, 1911, 1912; Droogleever Fortuyn, 1911, 1914; Rose, 1912, 1929; Lorente de Nó, 1922; Van Erp Taalman Kip, 1938). Considerable interest in these irregularities was kindled in the late 1960s when Woolsey (1967) found that in the mouse they formed an extended network that partially coincided with the primary somatosensory cortex (SI) as delineated by the low-resolution evoked potential technique. The significance of this network became apparent when Woolsey and Van der Loos (1970) subsequently prepared serial Nissl-stained sections that were cut parallel to the overlying pial surface (Fig. 1). They observed that layer IV contained a tangentially distributed array of cylindrical or oval-shaped multineuronal units that they dubbed "barrels." Recognizing that the array was similar to that of the vibrissae on the mystacial pad, they hypothesized that the barrels were the "cortical correlates of the mystacial vibrissae" and that "one barrel represents one vibrissa." They also hypothesized that the barrels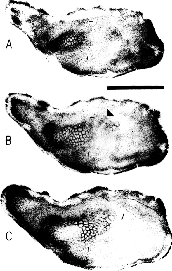 were a morphological manifestation in layer IV of functional cortical columns which had recently been described in the somatosensory cortex of the cat and monkey (Mountcastle, 1957; Powell and Mountcastle, 1959).
Keywords
Somatosensory Cortex 
Cortical Plate 
Primary Somatosensory Cortex 
Gray Squirrel 
Tammar Wallaby 
These keywords were added by machine and not by the authors. This process is experimental and the keywords may be updated as the learning algorithm improves.
Copyright information
© Springer Science+Business Media New York 1995