The Dynamic Parameter
Fluorescence Photobleaching as a Tool to Dissect Space in Biological Systems
Abstract
The viability of organisms is dependent on the controlled flow of information and metabolic/synthetic precursors between cellular compartments. Such processes are elaborated upon as a hierarchy of interdependence established between cells and tissues. Through the ebb and flow of signaling and metabolic molecules, dynamic linkages may be maintained between cells for the coordination, synchronization, and initiation of cellular cycles (Fig. 1). In this manner, organismal response to the environment may be viewed as the result of a linked web of dissipative molecular gradients across biological membranes that initiate and transmit environmental information and cellular status. Integration of these gradients over large numbers of cells and tissues collectively leads to spatial and/or temporal responses. The biological structures that serve as controllable elements for transmembrane molecular flow are generally classified as channels or pores that serve either as passive transport routes for low-molecular-weight molecules (Loewenstein, 1979; Nikaido and Nakae, 1979; Gunning and Overall, 1983) or as ion pumps or transporters requiring some type of coupled gradient dissipation or energy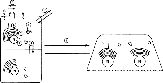 source for molecular transposition (Mitchell, 1979; Noma, 1983; Reuter
et al.
, 1983). In most instances, the control of these channels is mediated by ligand-specific receptors that couple to the channels under activating conditions, initiating a cascade of enzymatic changes resulting in a modification of channel transport properties (Koshland, 1981; Bean
et al.
, 1983; Hondeghem and Katzung, 1984). In other cases, transport channels and receptors are intimately linked, forming a common structure, as in the case of the nicotinic acid receptor/channel (Conti-Tronconi and Raftery, 1982).
Keywords
Dynamic Parameter 
Nuclear Pore Complex 
Transport Channel 
Dynamic Linkage 
Lateral Mobility 
These keywords were added by machine and not by the authors. This process is experimental and the keywords may be updated as the learning algorithm improves.
Copyright information
© Springer Science+Business Media New York 1991