Diethyl (Tetrahydrofurfuryl) Malonate
Abstract
A 150-ml shaking autoclave A (Fig. 2) was charged with 30 g (0.125 mole) of freshly distilled diethyl furfurylidenemalonate (see p. 35), b.p. 147–148°/2 mm, 45 ml of anhydrous ethanol (Note 1), and 2.5–3 g (3–3.6% of the total amount of solution) of Raney nickel catalyst (Note 2), With the autoclave valves B and C closed, the outlet valve D of the cylinder of the hydrogen compressor E was opened and the connecting tube F was filled with hydrogen. The valve D was then closed, the inlet valve B was opened slowly, and the autoclave was filled with hydrogen at 10–15 atm; the valve B was then closed, and the pressure in the autoclave was released by opening the valve C carefully (Note 3).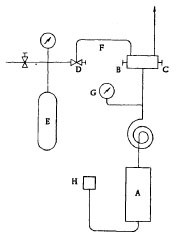 Keywords
Sodium Carbonate Solution 
Raney Nickel 
Sodium Aluminate 
Inlet Valve 
Outlet Valve 
These keywords were added by machine and not by the authors. This process is experimental and the keywords may be updated as the learning algorithm improves.
Copyright information
© Springer Science+Business Media New York 1959