Efficient Photovoltaic Solar Cells Based on Dye Sensitization of Nanocrystalline Oxide Films
Part of the Modern Inorganic Chemistry book series (MICE)
Abstract
Significant advances in the fields of colloid and sol-gel chemistry in the last two decades now allow fabrication of micro- and nano-sized structures using finely divided monodispersed colloidal particles.
1–7
As we approach the 21st century, there is a growing trend on the part of the scientific community to apply these concepts to develop systems of smaller dimensions. Homogeneous solid (3-D) is giving way to multilayers with quasi-2-D structures and quasi-1-D structures such as nanowires or clusters in an insulating matrix, and finally to porous nanocrystalline films. Nanocrystalline semiconductor films are constituted by a network of mesoscopic oxide or chalocogenide particles such as Ti0
2
, ZnO, Nb
2
O
5
, WO
3
, Ta
2
O
5
, CdS, or CdSe, which are interconnected to allow electronic conduction to take place. The pores between the particles are filled with a semiconducting or a conducting medium, such as a
p
-type semiconductor, a hole transmitter, or an electrolyte, forming a junction of extremely large contact area. In this fashion, the negatively and positively charged contacts of the electric cell become interdigitated on a length scale as small as a few nanometers. Nanostructured materials offer many new opportunities to study fundamental processes in a controlled manner and this in turn leads to fabrication of new devicesm some of which are summarized in Fig. The unique optical and electronic features of these are being exploited to develop optoelectroinc devices such as photoelectrodes in solar cells, photochromic displays/switches, optical switches, chemical sensors, intercallation batteries, capacitor dielectrice/supercapacitors, heat-reflecting and UV-absorbing layers, coatings to improve chemical and mechanical stability of glass, etc. In some recent articles
8–10
we have outlined some of these novel applications.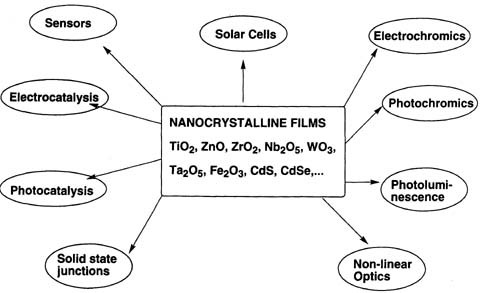 Keywords
Solar Cell 
Redox Mediator 
Charge Injection 
Back Contact 
Redox Electrolyte 
These keywords were added by machine and not by the authors. This process is experimental and the keywords may be updated as the learning algorithm improves.
Copyright information
© Springer Science+Business Media New York 1999