Tunable Optical Filter and IR Gas Spectroscopy
Part of the Microsystems book series (MICT, volume 14)
Abstract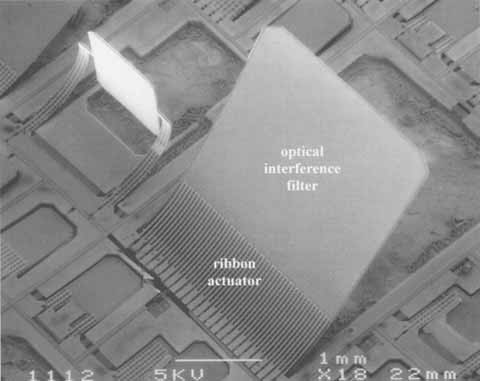 Large, flat, flip-up optical interference filters of porous Si were fabricated with areas ranging from 250 by 750 µm2 to 2400 by 4000 µm2 and a typical thickness of 30 µm. Fig. 8.1 shows the first design with a ribbon actuator (compare Fig. 7.13 A). In the rest position, the plate is lifted about 45° out of plane. This angle can be increased with a longer actuator. Experiments with different thicknesses of the porous Si layer show that the plate begins to warp when it is thinner than 15 µm and is difficult to lift up when it is thicker than 40 µm, because the actuator gets also thicker and more rigid.
Keywords
Print Circuit Board 
Filter Plate 
Tunable Filter 
Bragg Mirror 
Tunable Optical Filter 
These keywords were added by machine and not by the authors. This process is experimental and the keywords may be updated as the learning algorithm improves.
Copyright information
© Springer Science+Business Media New York 2002